With a record-breaking crowd response from 2022, Art of Speed returns for 2023 – bigger and better than ever! This year, Malaysia's premier Kustom & Counter Culture event is invading Malaysia Agro Exposition Park, Serdang (MAEPS) – 350,000 sqft indoor venue, 8.6 acre outdoor venue – taking over every event hall and features even more activities to satisfy the fans and visitors. MAEPS will host Art of Speed 2023 (AOS 2023) on 29 July 2023 (10:00 am – 7:00 pm) and 30 July 2023 (10:00 am – 7:00 pm).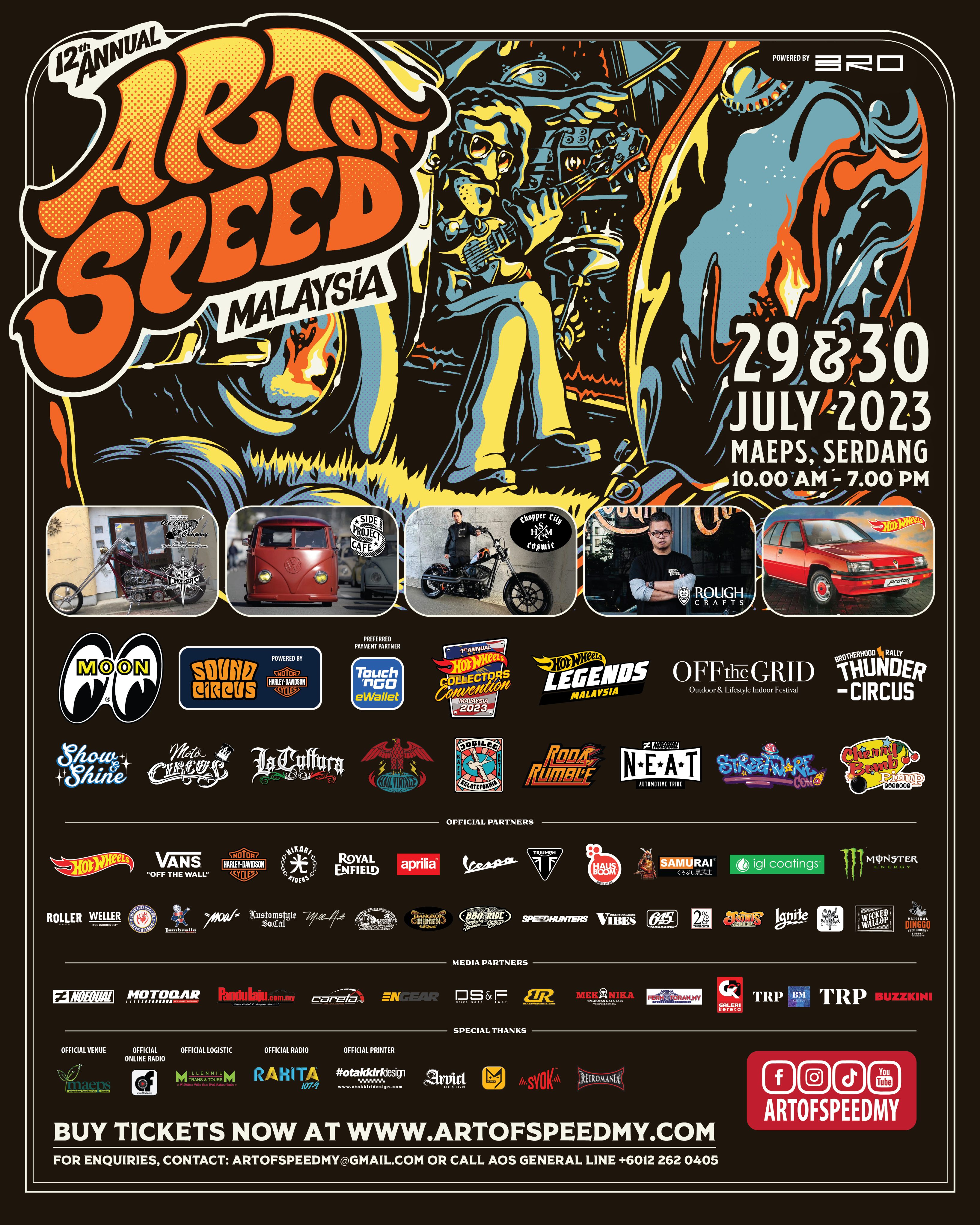 The AOS 2023 featured guest list from the international custom community and media will include:
Shige Suganuma, Emi Suganuma, "Sunny" Yano & Hiro "Wildman" Ishii from MOONEYES; Japan 

Wild Road Choppers; Japan featuring

1941 Harley-Davidson Chopper Show Bike

Cosmic Chopper City; Japan featuring

2020 Harley-Davidson Chopper Show Bike

Dino Dalle Carbonare from Speedhunters.com, Global

Alexander Iain from Speedhunters.com, Global

Side Yakotani; Japan featuring

1959 Volkswagen Type2 Safari Custom Show Car

Ya Seat; Thailand

Kustomstyle, Japan

Joints Custom Show, Japan

2 Percenter, Japan

Vibes magazine, Japan

Roller Magazine, Japan

Weller Magazine, Japan

Mow; Australia

Choppajoop, Singapore

Hisa Artes 66 Paintlab, Indonesia (a collective group of 15 pinstripe artists)

Fahmi Freeflow, Indonesia

Irvine Jasta, Indonesia

Cherry Bomb Pin-Up Parlour, Singapore

Bangkok Hot Rod Show, Thailand

Kustomfest, Indonesia

Borneo Kustom Show, Brunei

BBQ Ride, Indonesia

Wicked Wallop, Singapore

645 magazine, Indonesia

Mill Art, Indonesia

Ignite magazine, Thailand

Dinggo Company, Indonesia

Von Dutch, Indonesia
The main highlights for AOS 2023 will feature:
New For 2023! –

The Outdoor ThunderCircus "Brotherhood Rally" – a fully dedicated open area for motorcycle riders and enthusiasts that will attract a gathering of various motorcycles makes and brand communities. Highlights for ThunderCircus include a mega ride in, and motorcycle groups from across Malaysia and around the region.

New For 2023! –

Taking over Hall B for 2023 will be the 1

st

Official Hot Wheels Collector Convention in South East Asia. Visitors will be able to enjoy even more Hot Wheels activities, diorama displays – which include the Hot Wheels Rare and Collectibles Exhibition, Hot Wheels Skate School, Hot Wheels Swap Buy And Sell, Collector sharing sessions, Hot Wheels Custom Competition and many more. Hot Wheels fans will also be able to meet and greet famous Hot Wheels designer Matt Gabe from USA.

A limited edition Hot Wheels Official Convention Car will be released alongside a limited edition t-shirt, both licensed by Hot Wheels exclusively for the 1

st

ever-official Hot Wheels convention in South East Asia.

To commemorate the 40th anniversary of Hot Wheels in Malaysia, Mattel is joining hands with Malaysia's iconic national automotive brand, PROTON to create the first ever Hot Wheels – Proton Saga vehicle. In conjunction with this historic occasion, Mattel has organized the Hot Wheels x PROTON Kids Design Competition. The winning design will be announced at Hall A and a sneak peek of the collaboration will be featured with Matt Gabe sharing his experience during the Hot Wheels convention.

New For 2023! –

The Hot Wheels Legends Tour Malaysia "LIVE", debuts at AOS 2023. This year, the Official Malaysia competition will be held on Sunday from 9:00am during AOS 2023, featuring both local and international judges to select a Champion to represent Malaysia on the world stage. Free Registration for the Hot Wheels Legends Tour is now open at

www.artofspeedmy.com

and there is no deadline!

New For 2023! –

Art of Speed collaboration with VANS will feature limited edition shoes and a special Art of Speed 10 years commemorative hard cover coffee table book for collectors. VANS will setup a mini skateboard and BMX park, free to play at Hall DG next to Food Park.

New For 2023!

– Art of Speed collaboration with HIKARI RIDERS with limited edition merchandise.

New For 2023!

– Art of Speed collaboration with IGL coating with limited edition coating especially made for bikers and motorcycles.

New For 2023!

– Art of Speed collaboration with MOONEYES featuring limited edition event exclusive t-shirt and MOONEYES MALAYSIA dealer t-shirt.

New For 2023! –

The Inaugural Miss Art of Speed 2023.

Art of Speed Malaysia first introduced Pin-Up Stars back in 2015 which featured three pin-up icons from the region – ChicaRockabilly from Singapore, Cassidy Anderson from Australia, and Claudia Adinda from Indonesia. The Miss Art of Speed pageant aims to encourage women of all shapes and sizes to feel confident, step out of their comfort zone, and show their inner and outer beauty through the art of pin-up. Once applications close, our judging panel (to be announced) will select the Top 10 finalists, who will compete for the title of Miss Pin-Up Art of Speed 2023. The pageant will be held on Saturday 29 July 2023 inside Hall A, MAEPS Serdang. The finalists will strut on the catwalk, showcase daywear, and participate in a Q&A session before the winners are crowned. Entries are open to all females from 1 year old to 50 years old and above. This year

Cherry Bomb Pin-Up Parlour

will be hosting this prestigious pageant. 

In collaboration with NoEqual.co is the NEAT Fest in Hall C, which will feature a collective display of hand selected race cars from across Malaysia. Theme is Malaysia Motorsports and will feature exotic and rare race cars.

Returning to Hall C for 2023 will be the Off The Grid camping and outdoors exhibition – featuring "outdoor lifestyle" held indoors with air-condition comfort and plenty of activities both on and off stage for the entire family to enjoy. Brands participating will include local and international brands occupying more than half of Hall C featuring the latest in outdoor lifestyle product and services.

Hail Vintage is back for AOS 2023 and will be hosted in Hall D, showcasing a large variety of vintage collectibles. Specialist vendors will be invited not only to sell but also display their extensive collection. This year's theme is "music, blast from the past" and features the rarest of music collectibles, merchandise, and memorabilia.

Streetware Con featuring streetwear fashion galore at Hall D. Now with even more vendors for 2023 and 40 emcees performing over 2 days.

Danial Malek from NoEqual.co will be this year's host for our annual Kustom & Koffee Talk inside Hall A at 3.30pm on Saturday, together with overseas panelists. The forum will discuss the latest trends in the bike and car industries.

Show & Shine returns in Hall A, featuring the best selection of modified cars and custom motorcycles with an opportunity for Best of Show to win a trip to The 31

st

Annual Yokohama Hot Rod Custom Show to be held in December 2023.
Additional AOS 2023 activities include:
Roda Rumble 2023 – Two Wheels Gathering & Outdoor Festival supported by Retro Mania

La Cultura – Malaysia's Chicano Culture Appreciation Gathering, which includes a fashion display of Cholo and Chicano style, Dance and DJ show, and more

Food Park food vendors and trucks now with sheltered access at the Food and Beverage basement/underground level DG 

Automotive Flea Market

Product launching on stage

Test Ride Zone for bike (Royal Enfield, Vespa, Aprilia, Triumph, Harley-Davidson, and more)
Also returning for AOS 2023 is the highly popular SoundCircus Festival, powered by Harley-Davidson dan BRO ASIA.
The first 1,000 ticket buyers will be entered for the AOS2023 Online Lucky Draw, and there will be additional prizes to be won courtesy of Harley-Davidson. 
The 10 bands lined up for SoundCircus Festival include Superman Is Dead from Bali Indonesia, No Good, Plague of Happiness, MC16, Skudap Skudip, Dum Dum Tak, Krusty, Restraint, Naratu, and Armpunk Sindicate; and yes, mosh pit is allowed and recommended. SoundCircus Festival will be held on Saturday 29 July 2023 at MAEPS Serdang from 4:00 pm till late. Tickets are now available at https://scf.artofspeedmy.com/ticket/ (Early Bird tickets are sold out). SoundCircus Festival ticket for access to outdoor stage is available at RM120 per pax or RM360 for group of 4 pax (RM90 per pax).
*SoundCircus Festival is for ages 16 years old and above ONLY!
To end the show on Sunday, one lucky ticket holder will go home with the lucky draw giveaway for ONE (1) 1979 Toyota Celica fully customized by Art of Speed Malaysia (AOSM).
The AOS 2023 weekend pass is available at the door and online for RM35.00, with children below 12 years old entering for FREE. OKU (disabled) Pass Holders will also enjoy free entry. AOS 2023 will continue the Fastlane ticket, which opens one hour earlier at 9:00am; priced at RM60.00 and valid for both days. Visitors can enjoy one extra hour inside the main hall A, B, C and D. Halls are open from 10:00am to 7:00pm on both days. SoundCircus Festival + Weekend Pass combo is now available online for RM135.00.  Indoor stage in Hall A will feature bands such as Dato Maw, Hip Hop Decontrol, Balan Kash, Arunboii, One Buck Short, Loko, Bayangan, Kapten Oi!, Dead Mushroom and Blues Gang.
Art of Speed will also be giving away a Honda e-DAX motorcycle to one (1) lucky online ticket purchaser, applicable for both AOS and SCF tickets. AOS and SCF tickets can be purchased via the official website www.artofspeedmy.com
"Since its inception, Art of Speed Malaysia has successfully established itself as a gathering not only for motorcycle and car enthusiasts, but also art-practitioners, musicians, collectors and the likes, while culminating in a large-scale annual event," said Mr. Asep Ahmad Iskandar, Festival Director, Art of Speed Malaysia (AOSM). "For this year's event, AOSM will be celebrating its 12th annual show and with it, will be igniting the spirit and enthusiasm of passionate enthusiasts, a show not to be missed by the public."
For AOS 2023, local e-devices manufacturer, BRO ASIA, will be the Title Presenter. "We're very proud and excited to accept AOSM's invitation to be a part of this exciting event and make it a success. It's in sync and befitting with the direction of our brand that's suited for fans of Kustom & Counter Culture," said Mr. Roman Lai, CEO & Founder of BRO ASIA.
Vendor & Corporate application is now open, please contact Rafiq at +6012 2620 405 for business enquiries. For more information about this event, please visit www.artofspeedmy.com or www.facebook.com/ArtOfSpeedMY/