Sri Kota Specialist Medical Centre (SKSMC), a private tertiary healthcare provider, is pleased to announce the upcoming Sihat Fest 2023, an event dedicated to promoting health and wellness in the local community. The festival is set to take place on Saturday, 8 July 2023, at Taman Rakyat in Klang from 6:30 a.m. to 10:30 a.m.
Sihat Fest aims to inspire individuals to embrace a holistic approach to their well-being, focusing on physical, mental, and emotional health. This event will provide community members with a one-stop avenue to learn, engage, and participate in various interactive activities that contribute to a healthier lifestyle.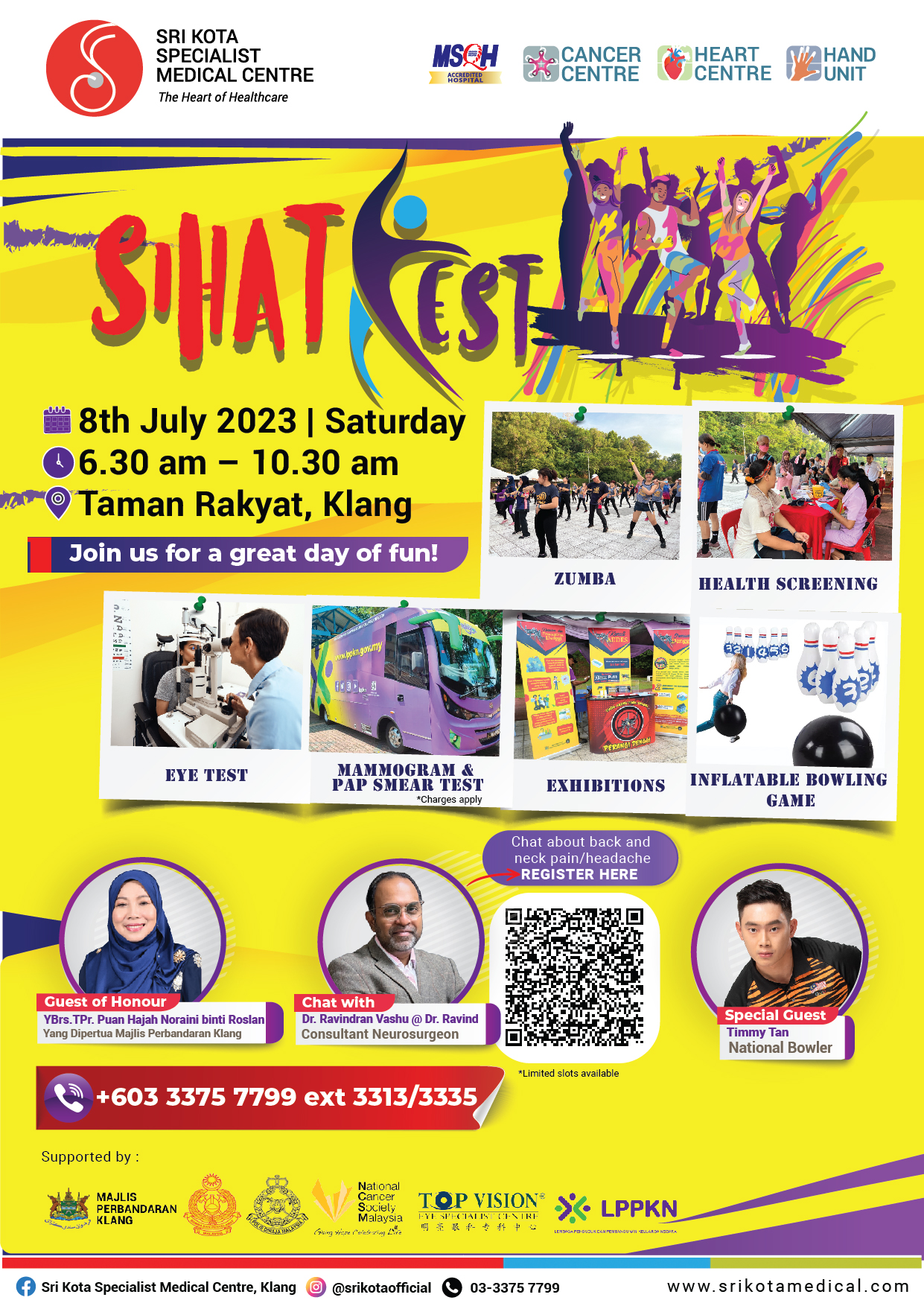 The event will be graced by Guest of Honour, Yang Dipertua Majlis Perbandaran Klang Puan Hajah Noraini binti Roslan and Special Guest National Bowler Timmy Tan.
SKSMC Hospital Director Madam Tan Suet Gan said, "We are thrilled to organise our annual flagship Sihat Fest as a platform to promote health and wellness in our community. Through this event, we aim to empower individuals with the knowledge and tools to make informed decisions about their health, fostering a healthier and happier community."
Sihat Fest 2023 will feature an exciting lineup of activities, including health screenings and educational sessions designed to encourage visitors to start thinking about and prioritising their well-being.

Highlights of Sihat Fest include:
Zumba:

Get ready to groove and burn calories with Zumba sessions led by professional instructors. Zumba is a fun dance workout that promotes cardiovascular fitness and enhances overall well-being, including mental health.

Basic Health Screening:

SKSMC will conduct free health screenings, including blood pressure checks, diabetes screenings, body composition tests with counselling by a dietitian, and aerobic tests by the Physiotherapy department; all of which are vital for assessing overall health and identifying potential health risks.

Complimentary Eye Test:

Ensuring optimal eye health is essential. Participants will have the opportunity to undergo complimentary eye tests conducted by experienced optometrists from Top Vision Eye Specialist Centre, enabling early detection of vision-related issues.

Mammogram and Pap Smear Test:

Participants can visit the

Lembaga Penduduk dan Pembangunan Keluarga Negara

(LPPKN) booth to receive referral letters to undergo free mammogram screening at SKSMC (*for those who are eligible).

Meanwhile, for RM50, they can also undergo pap smear tests on

site. These screenings are crucial for the early detection of breast and cervical cancers, enabling timely intervention and treatment.

Cancer Screening:

Participants can also visit the National Cancer Society of Malaysia (NCSM) booth to access cancer screenings, including prostate and colorectal cancer. In addition, they can also test for the risk of lung and liver cancer.

Free Consultation with Doctor:

SKSMC Consultant Neurosurgeon, Dr. Ravidran Vashu, will be on-site to provide consultation to registered participants on back and neck pain and headaches. He will share practical tips for managing and preventing these common ailments. As slots are limited, kindly

register in advance:

https://forms.gle/oyHTfWkvfKDXJh1EA

Organ Donation Drive:

There will be a campaign dedicated to raising public awareness and providing valuable information about the importance of organ donation.

Inflatable Bowling Game:

Families can enjoy a fun and interactive inflatable bowling game that not only promotes physical activity but also social engagement.
In addition, Sihat Fest 2023 will also feature exhibitions by various organisations on health and safety matters: a cancer awareness and prevention exhibit by the NCSM; a dengue awareness campaign by Majlis Perbandaran Klang; and "Kempen Pencegahan Jenayah" by Ibu Pejabat Polis Daerah Klang Selatan (IPD Klang Selatan) to promote crime prevention and security awareness. In addition, IPD Klang Selatan will be showcasing their multi-purpose vehicle and bike. Balai Bomba dan Penyelamat Seri Andalas will also conduct a fire safety awareness campaign for members of the public.
SKSMC invites individuals of all ages to join the Sihat Fest 2023 and embark on a journey towards a healthier lifestyle. Admission to the event is FREE.
Sihat Fest is supported by Majlis Perbandaran Klang, IPD Klang Selatan, Balai  Bomba  dan  Penyelamat  Andalas,  Lembaga  Penduduk  dan Pembangunan Keluarga Negara, NCSM, and Top Vision Eye Specialist Centre.
For more information on the Sihat Fest 2023 initiatives, kindly direct your enquiries to the SKSMC's marketing department: [email protected]
For more information, kindly visit: www.srikotamedical.com