WB Land, a trailblazing developer under the WB Group, is again setting the trend by committing to provide Seremban's first public-area EV charging facility at its Frontiercity @ AINSDALE development in a ceremony witnessed by Datuk Bandar of Seremban, Dato' Masri bin Haji Razali today.
Group managing director Kevin Woon signed a Memorandum of Understanding with EV charging solution company ChargeSini in conjunction with launch of Frontiercity @ AINSDALE Phase 2 here. This launch followed the success of Phase 1 which saw all units fully sold. "This groundbreaking partnership not only marks Seremban's first EV infrastructure in a public area but also reaffirms WB Land's commitment to contribute to a cleaner and greener future,"
Woon said.
He added Frontiercity @ AINSDALE was a convenient hub for business and lifestyle. As the first stop after Bandar Ainsdale Toll Plaza, this prime location would give businesses high visibility and exposure.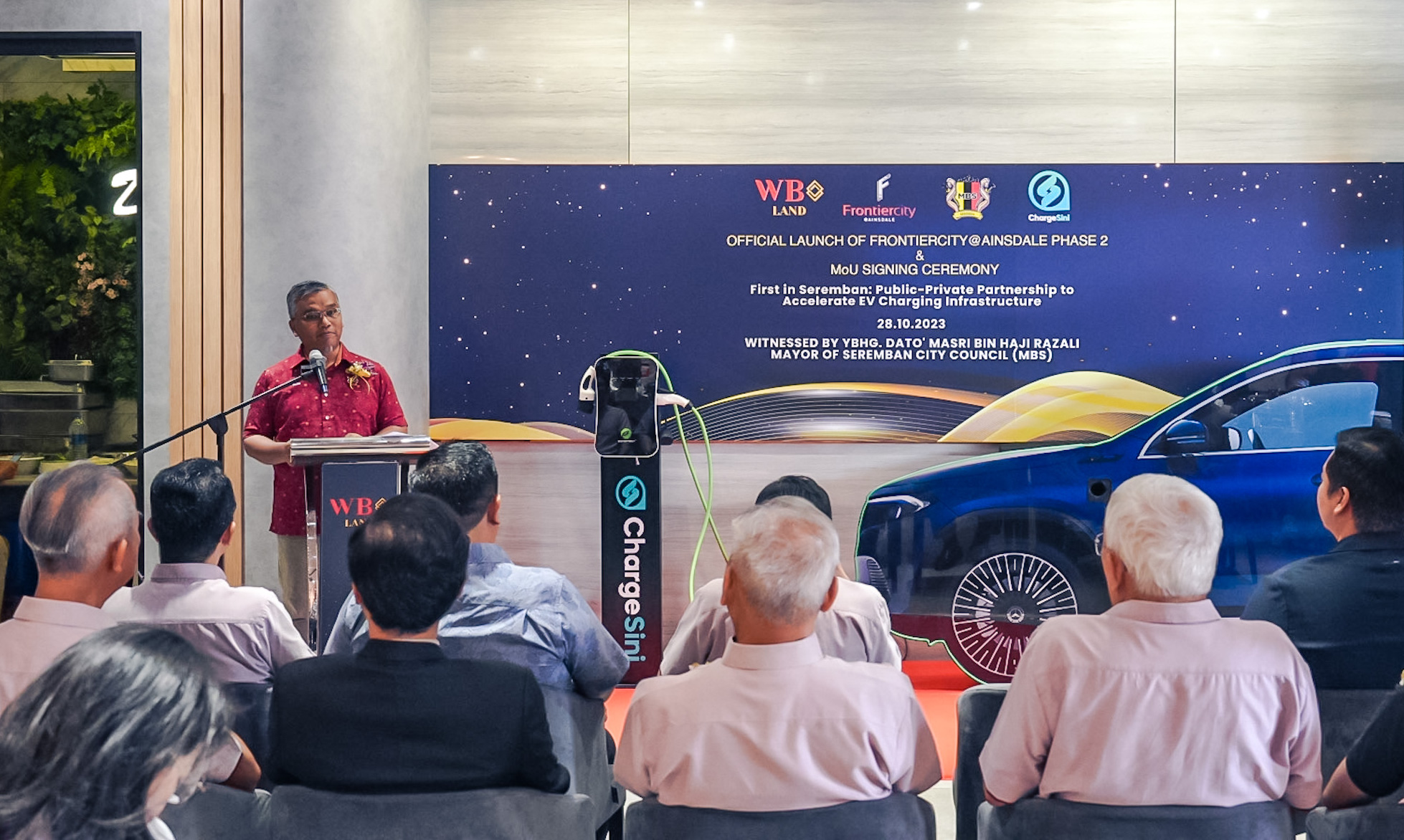 "We hope to continue to transform urban developments with Frontiercity @ AINSDALE. We do this by spearheading the new trend, which is the electrification of vehicles. It is up to us as space creators to take the big step forward, to enrich the lives of people who will make this commercial hub come alive," he explained.
"I would like to congratulate WB Land for proposing this Partnership concept. This not only expedites the establishment of electric vehicle charging stations but also reduces potential hurdles for the people and businesses in the future.", said Mayor of Seremban City Council, YBhg. Dato' Masri bin Haji Razali.
"We appreciate the initiative taken by WB Land and we hope this will motivate more private sector companiesto stand out and turn the state capital into a smart and low carbon city by 2027." ChargeSini CEO James Goh said, "As Malaysia embarks on its sustainable mobility journey, we acknowledge evolving regulatory challenges from local authorities (PBT), particularly in licensing, charging infrastructure, and parking facilities. WB Land's initiative is vital at this juncture, providing support to navigate these challenges and promote accessible EV charging infrastructure. " He added, this partnership marks a new era of collaborative innovation between industry and PBT.
In conjunction with the Frontiercity @ AINSDALE Phase 2 launch, an exclusive partnership was also forged with Mercedes Benz to showcase their electric car models EQC and EQS.
For more information about the Phase 2 launch of Frontiercity @ AINSDALE, visit WB Land's official website https://www.wbland.my