Earlier this year, Malaysians were introduced to a thrilling waterpark attraction named SplashMania, which is a part of the larger GL Play offering by Gamuda Land's Leisure and Hospitality division. Situated in Gamuda Cove, Selangor, Malaysia, SplashMania delivers an unparalleled fun and exciting experience to all its visitors. 
With the other existing waterparks in the country having been around for decades, the attractions industry was primed for a game-changer that would redefine the parameters of what a waterpark could offer. Having conducted its soft launch in February and officially opening in July, SplashMania successfully secured a monthly visitorship of 75,000, a testament to its myriad offerings and overall experience.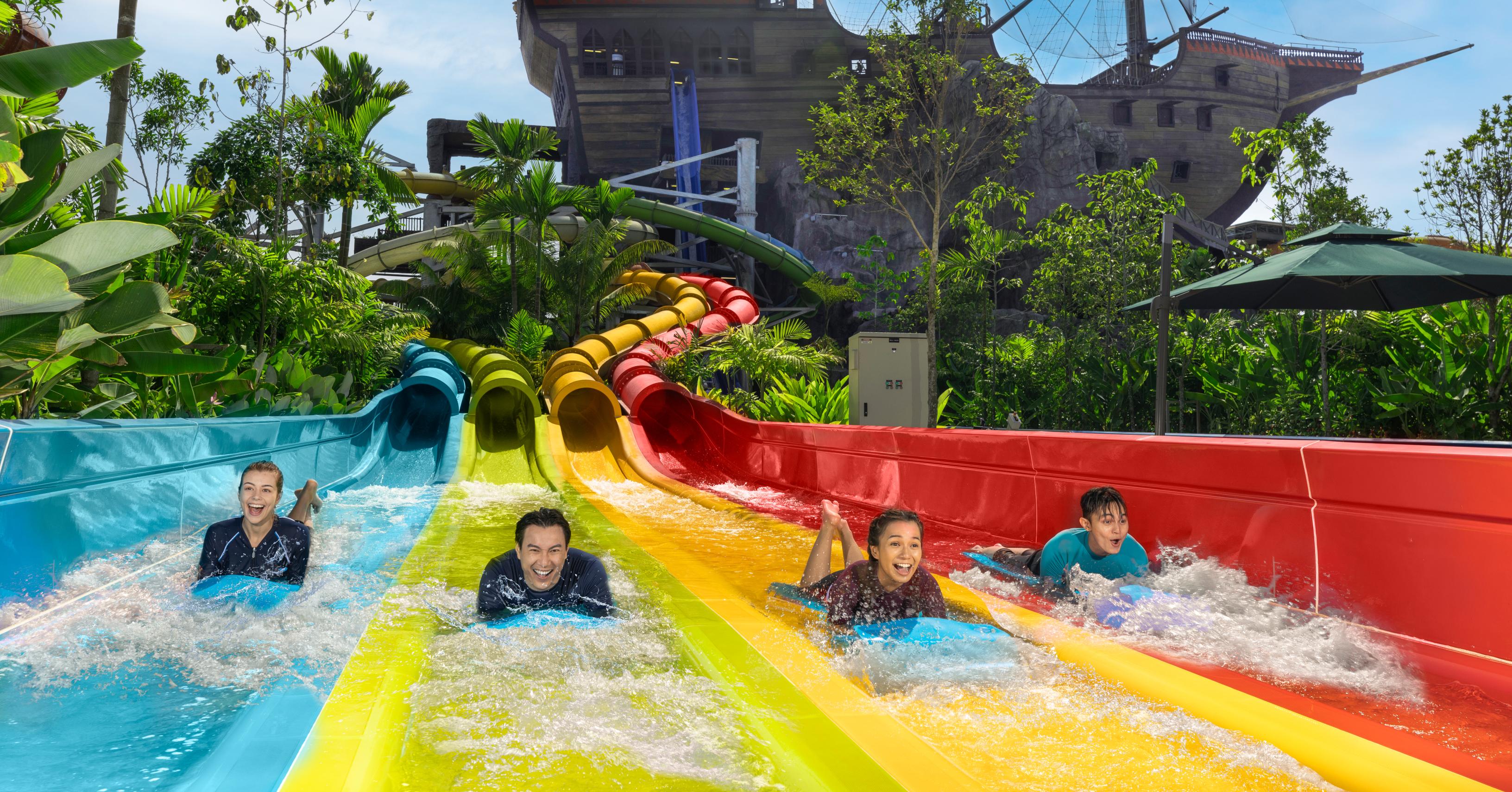 But what exactly differentiates SplashMania from other attractions? Some might attribute it to the fact that it's new and the subscription is solely based on curiosity. But the more than healthy monthly visitorship spanning over half a year indicates otherwise as it is evident people are continually returning to get a splashing good time. In actuality, one of the main reasons that SplashMania has enjoyed such success is because of its world-class waterslides with some designs being a first not only in Malaysia but Southeast Asia.
You could think of it as a regional monopoly where Malaysians and tourists can only experience these unique waterslides at SplashMania. This might lead you to ask the question "What's so special about this set of waterslides where both locals and tourists are flooding the SplashMania gates?" A large part of that equation is the waterslide design partner, ProSlide, which was appointed to conceptualise some of its key offerings.
"While the water rides are a major highlight of SplashMania, it was important to Gamuda Land to incorporate all the latest trends in waterpark development into their waterpark master plan. We worked with them through that process to integrate the cutting-edge attractions into a fully functional plan that prioritizes guest experience. We're very proud of how we worked together with Gamuda Land, and very proud of the finished product that can be enjoyed by their guests," said Nik Paas, ProSlide Regional Vice President Sales for Asia-Pacific.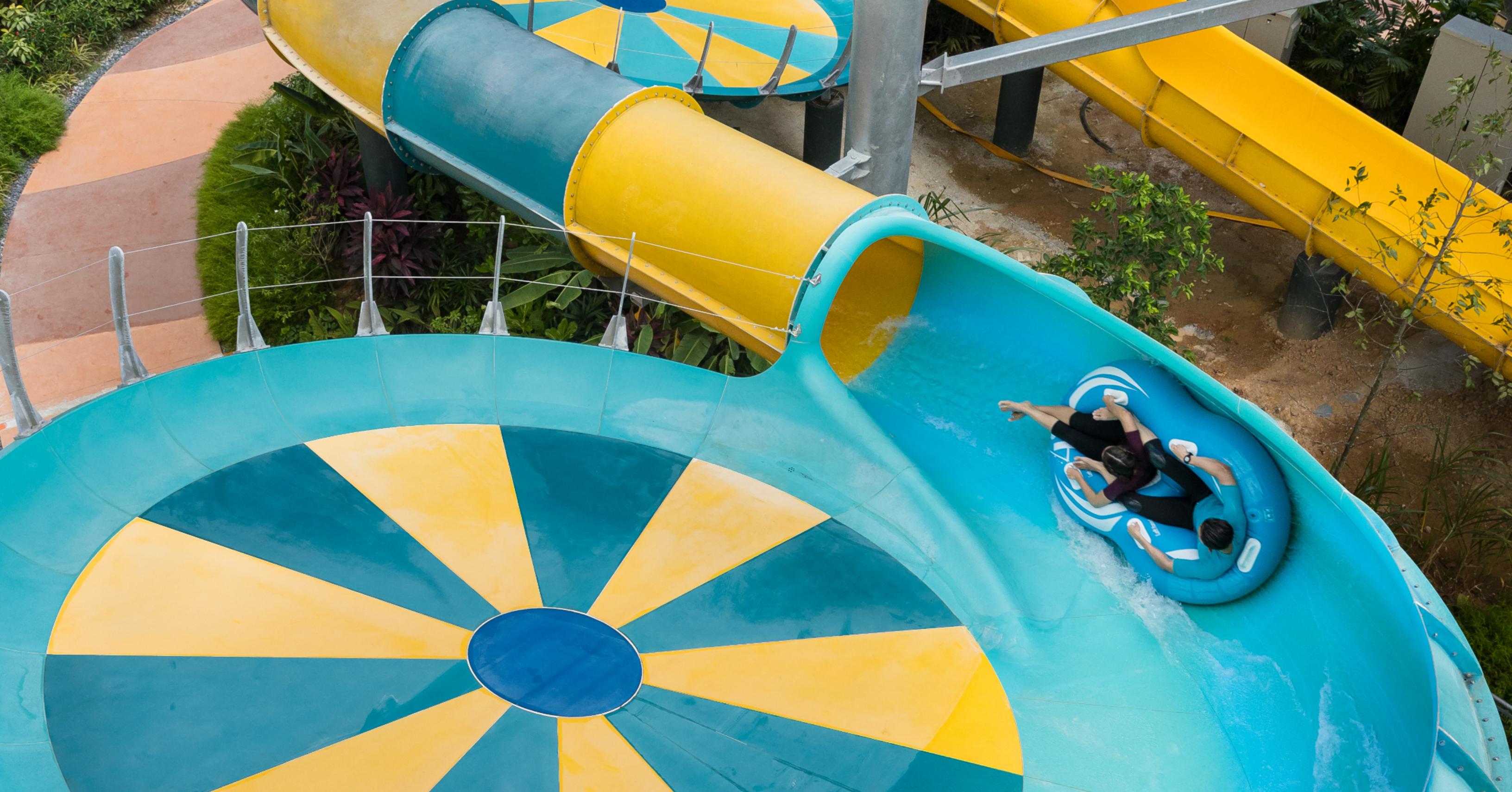 Based in Canada, ProSlide has been designing award-winning waterslides for the better part of four decades for some of the most notable waterparks across the globe that include Disney Blizzard Beach in Orlando, DreamWorks Waterpark in New Jersey and Atlantis Aquaventure in both Dubai and China. With 16 International Association of Amusement Parks and Attractions (IAAPA) Best New Water Ride awards in the last 19 years (five times more than any other competitor), ProSlide's credibility and results speak for itself. This made the tie-up a synergistic partnership between SplashMania which was set on creating a one-of-a-kind experience and ProSlide which anchor their trade on innovation and transformative technology.
Monsta & Twista
ProSlide's industry-leading work only continued with SplashMania, introducing some of their best designs to the region with a few unique tweaks. If you've read some of the reviews on SplashMania, you'll know that the Monsta & Twista waterslides are amongst the most patronised slides within the park. 
Being two completely different experiences, the aptly titled Twista was modelled after ProSlide's 2015 IAAPA Best Water Park Ride Award that entails a high-speed slide into back-to-back saucers that sends riders for a spin in more ways than one. Its counterpart, Monsta, sends riders into a 40' diameter bowl in a slingshot motion before being shot up the WAVE, a curved wall that allows for a dynamic twist in-run that transfers the forces of compression to a feeling of vertical speed.
Typhoon Terror, Twin Turbo and Curl & Swirl
The next innovative set of waterslides is a trifecta of designs, that entrances are housed under the same roof but leaving riders with a complete contrast in experience. To start off, the Typhoon Terror waterslide mimics Olympic Bobsledding with its sharp turns that then send riders sliding into two open FlyingSAUCERs before finishing.
As you probably guessed from its name, the Twin Turbo waterslide is the other racing-themed experience with two channels for riders to go against in a splash-filled 1v1 contest. It begins with the riders separated in their respective sections before merging into an enclosed tube where they can assess their position mid-way through and ultimately separating once more to leave a heightened sense of anticipation for the finish.
Next up, we have the Curl & Swirl which is as much fun as it sounds! One of the shorter waterslides is jam-packed with thrill as riders are sent into an open 360° bowl before being zipped into a pool.
Maniac Racers
Lastly, is the Maniac Racers waterslide that emulates the thrill and speed of the track in water form with four lanes for riders to beat their peers to the finish line. It begins with an open RallyPOINT for patrons to check out the competition at the splash-off (flag-off), before the lanes separate in pairs ultimately leading to a burst of speed within the enclosed teardrop curve that transitions into the final stretch.
It's evident that these set of waterslides have been largely responsible for the wave of people that have continually visited SplashMania being unique experiences that can only be found there across the region. This was also key in SplashMania bagging three awards at this year's Golden Horse Awards organised by the Malaysian Association of Themepark & Family Attractions (MATFA) that included Waterpark of the Year 2023, Best New Water Attraction and Best Theme Park – Environment & Sustainability Initiative.
The impressive part is that these are only a handful of waterslides that are available at SplashMania, there's also the Sumaumeira Drop and The Plunge that send riders plummeting down at sharp angles which are experiential for thrill seekers. All in all, SplashMania and ProSlide have curated an experience through its set of waterslides that truly has something for everyone, be it families, adrenaline junkies, and those that just want to have a good time.
For more information, do visit SplashMania at  glplay.com.my/splashmania.