In the past 3 years, Hong Kong is far from hibernating, it is in fact awake and buzzing with changes. Tourists can anticipate an invigorating experience with exciting new hotspots, particularly in dining and shopping scenes. Bustling with city lights and crowded streets, Hong Kong has been long known as a giant melting pot and this is translated through its vast choices in both shopping and dining experience.
Hong Kong dining is a medley of Michelin standard top restaurants to local exceptional street food and its signature 'cha chaan teng'. It is witnessing a growing interest in sustainable dining as well as expanding its halal options. No matter what gastronomic experience you are looking for, you will be spoiled for choices.
Apart from dining, Hong Kong is famous as one of the best cities to go shopping. From luxurious malls, outlets, specialty stores, and street markets, the diverse selection allows anyone of different budgets, personal tastes and interests to be able to shop their hearts out.
Three Hong Kong Super Fans Sheryle, Vorrarit Anantsorrarak and Euxyn share 8 shopping & dining spots to get you started on your bucket list for your next visit.
1) Central Market –  Retro vibe, modern shop and dine experience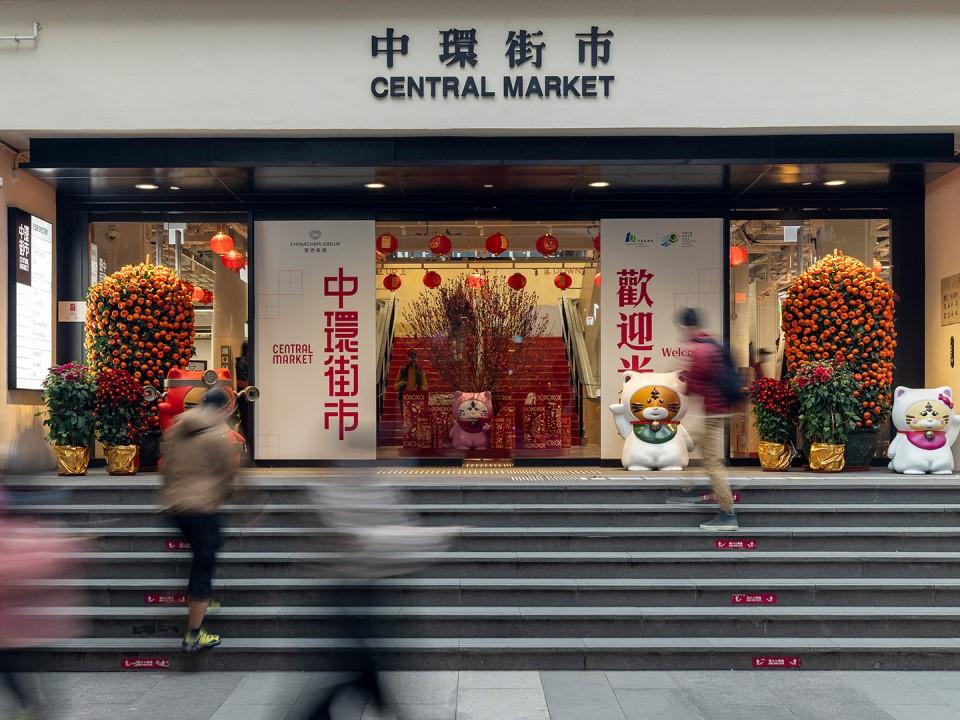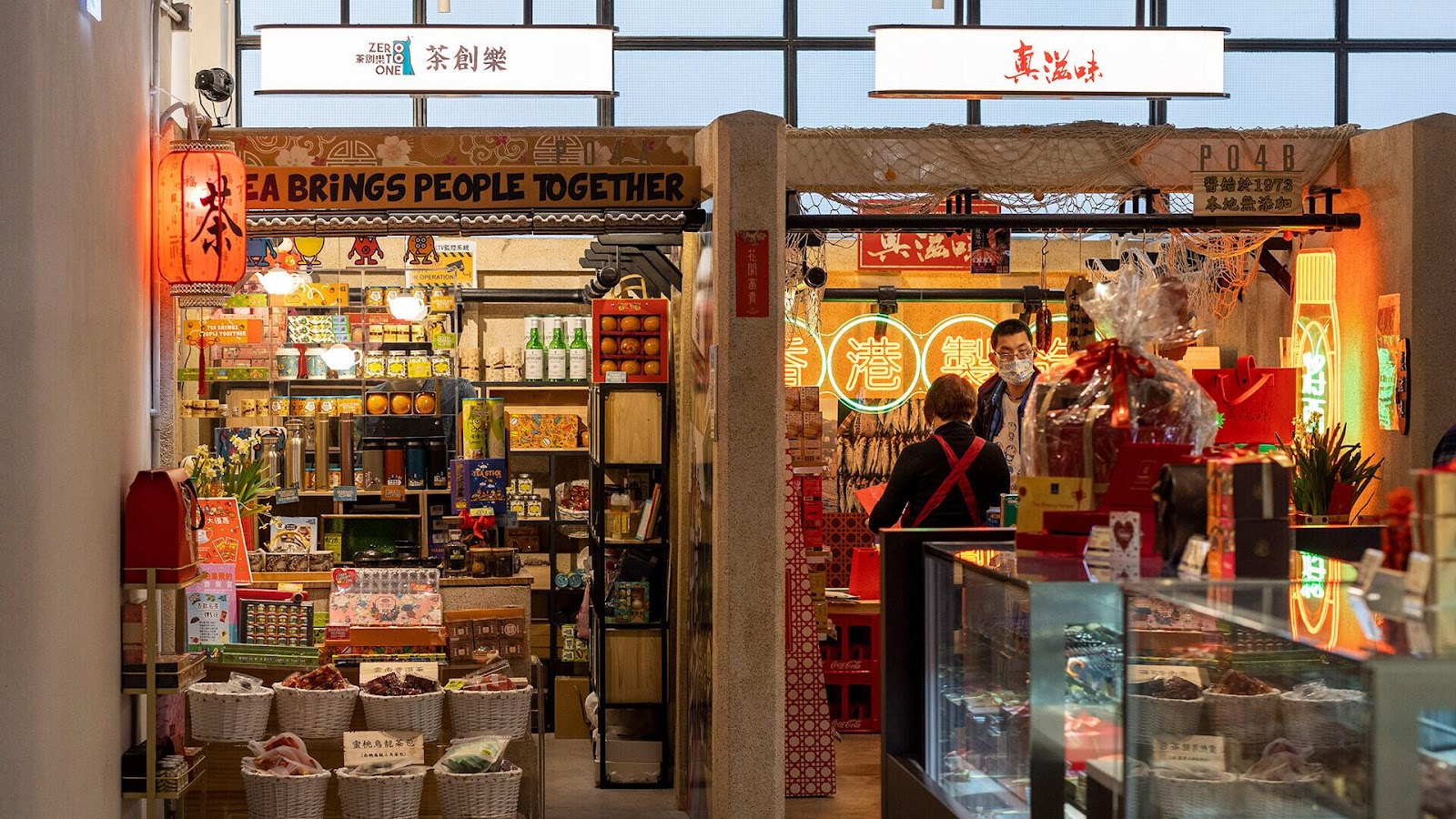 Once Hong Kong's first modern wet market, The Central Market was opened in 1842 and was fully functional for more than six decades before it was revitalised. It was finally opened to the public in August 2021, the new and revitalised Central Market was transformed into a vibrant community hotspot with superb dining and interesting retail options. Whilst the building's interior seems modernised, its exterior retains its nostalgic character.
Euxyn, who is the owner of HomeKong Mart in Singapore and Malaysia recollected her nostalgic memory of her first visit to Central Market, "A spacious old-school cement staircase greeted me at the entrance. Those faded handwriting typos, display signages, classic red lamps, and the preserved market kiosk gave me a better idea of the past HK heritage. There are so many treasures in these collectives that we should pass on to future generations."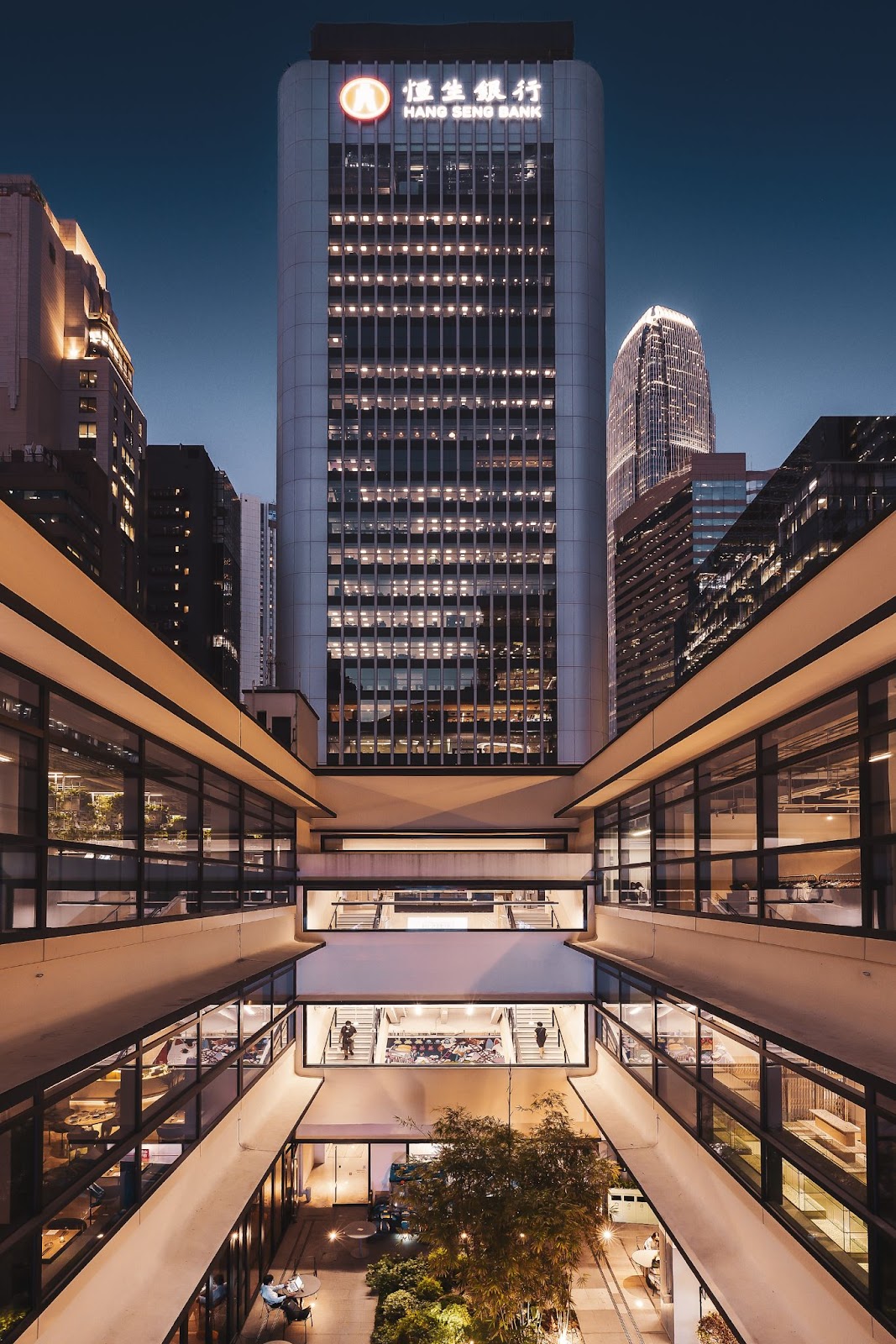 Another Hong Kong Super Fan, Vorrarit Anantsorrarak, a Thai photographer based in the city described Central Market as "Lots of trendy local-brands stalls, popup store, restaurants, bars, and many fringe art or culture events. It really brings the heritage Central Market back to life to this modern day."
Some of the notable F&B offerings are Winelog, Mak's Beer and I-O-N.
Winelog is a wine bar and one-stop wine-appreciating spot that celebrates award-winning labels from all over the globe. Not only will you enjoy good wine, but you will be brought on an educational wine tasting journey as well. Mak's Beer on the other hand, as the name suggests, serves unique beers that are inspired by local ingredients like sugarcane and dried longan. How interesting is that? You are guaranteed to taste the largest varieties of Mak's Beers on tap and the brand's first beer cocktails, which you can only find exclusively at this Central Market shop. Now, to answer your question "Is there a one-stop shop that serves everything?". I-O-N  has the answer by offering a wide variety in its 3,000 sqft 3-sectioned-open space; a 360-degree coffee, tea, and cocktail bar; a café bar preparing innovative Western dishes with an old-Hong Kong twist; and a four-sided pastry station.
The Central Market focuses on showcasing homegrown talents and small businesses not only in the F&B industry but retail as well. There are many unique ones but do keep a lookout for Slowood and HK Tram Store.
 You can find uniquely Hong Kong items like Hong Kong Tramways Monopoly set, diecast Hong Kong buses and trams, and many other whimsical versions of nostalgic Hong Kong elements in the form of everyday lifestyle products here at the Hong Kong store. This is the place to be to bring one of Hong Kong's signatures back home. If you are an avid environmentalist at heart, Slowood offers everything eco-friendly and zero-waste organic groceries. You can buy what you like in your own desired quantity and bring them back in your own containers. Happy you, happy earth!
On top of these highlighted shops, there are many other businesses selling various uniquely Hong Kong experiences and you have to drop by to personally witness them. After all, it is a playground for everyone.
Location: 93 Queen's Road Central and 80 Des Voeux Road Central, Central, Hong Kong
2) Tea Chateau – First #madeinhk tea capsules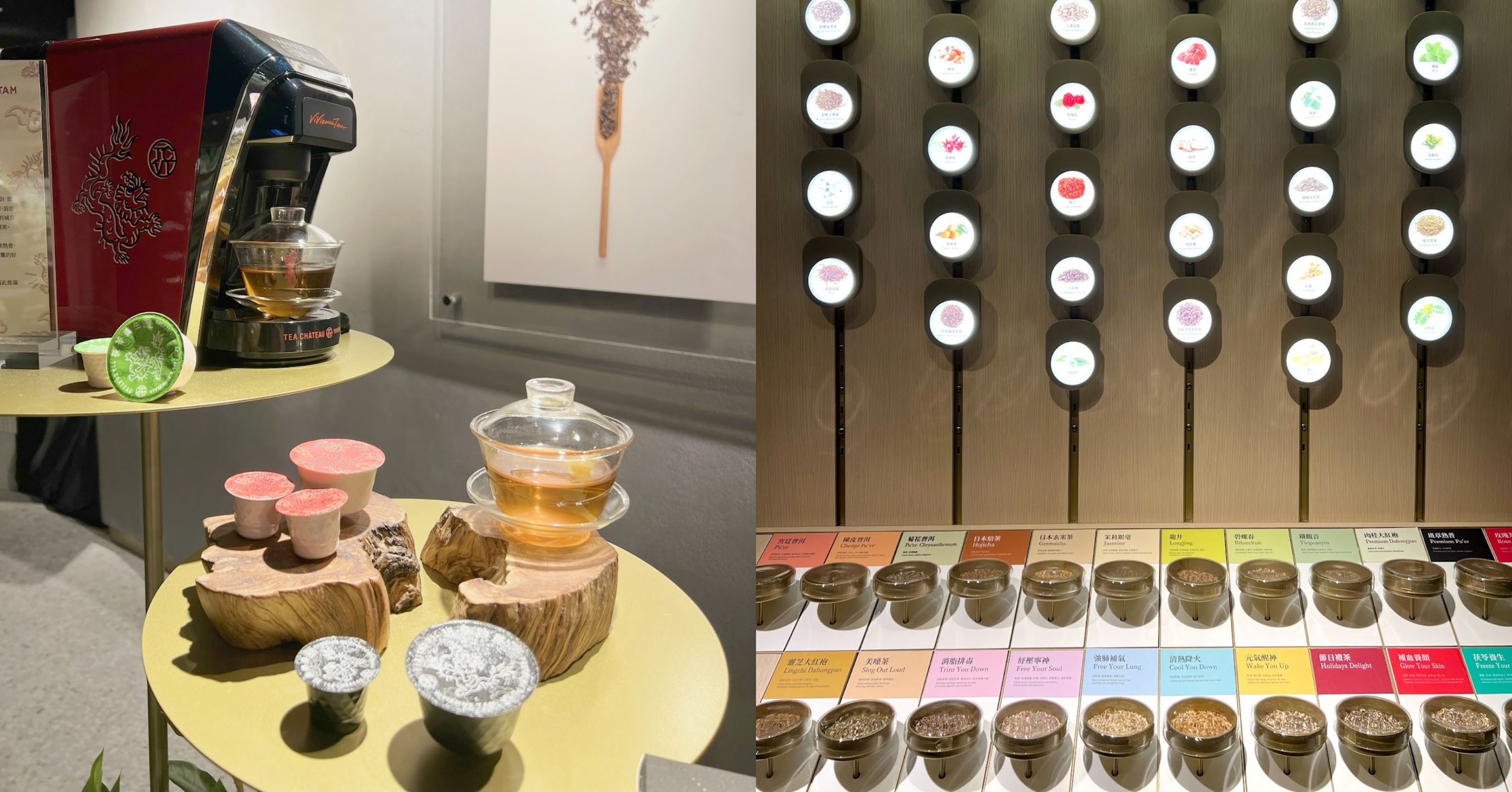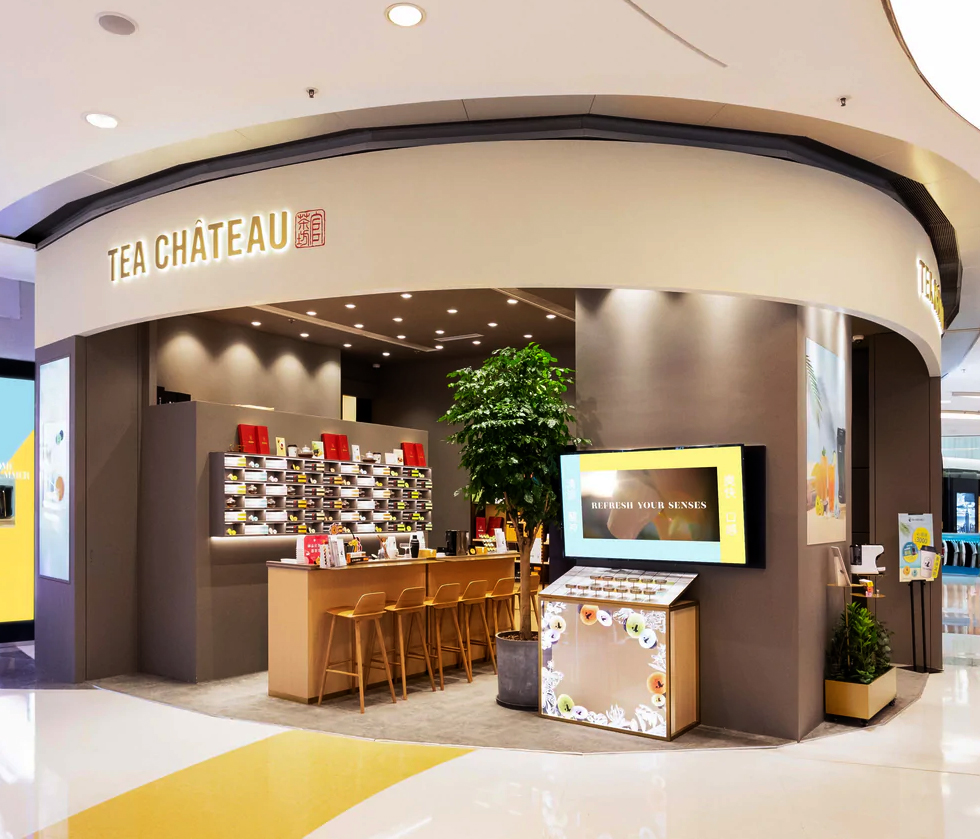 Tea culture in Hong Kong started at the end of the 19th century. People would buy tea leaves from tea houses to serve visiting guests. Thanks to modernization, tea lovers can now rejoice and enjoy traditional Chinese tea within 30 seconds! The latest hype in Hong Kong, Tea Chateau brings you the traditional Chinese tea culture, but in a capsule. Not only can you nail your tea-to-water ratio to perfection, but the advanced packaging will ensure your leaves will be fresher, and longer. The notable flavours are Free Your Soul, Lingzhi Dahongpao, Chenpi Puer, and their limited edition seasonal flavours. The best part about Tea Chateau is that you are most likely to find it in whichever area you are in, making bringing a piece of Hong Kong back home a breeze.
Euxyn recalled that she was having tea with her friend when she was introduced to Tea Chateau. She was intrigued and visited the shop right away to try and get a better idea of these capsules. The best part is anyone can get a good healthy brew with the press of a button. Not only that, these capsules are compatible with coffee capsule machines in the market and Euxyn mentioned that there are plans to bring this into Homekong Mart. So, if you are keen to have a taste of Hong Kong, you can watch this space for updates.
Location: Click here for Tea Chateau shop locations island wide
3) Fish Ball Gor  – Famous curry fish balls and cart noodles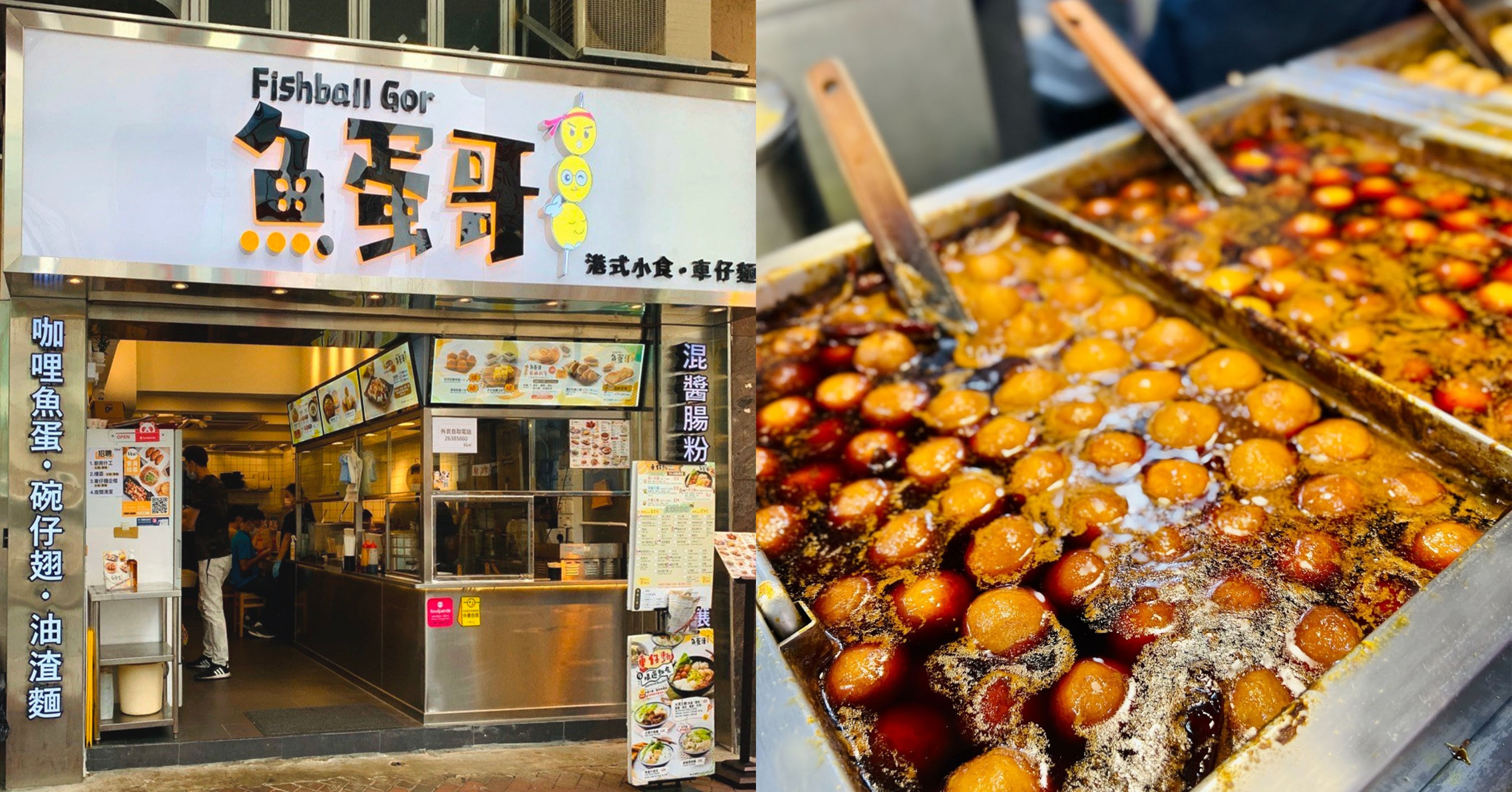 If you travel and do not explore the authentic, local cuisine, you are missing out. Fish Ball Gor, is a must-visit eatery if you love experiencing local food when you travel. It serves a variety of Hong Kong-style authentic snacks. The hunt for Hong Kong's authentic delicacies won't be complete without cart noodles and they have more than 30 kinds of food for you to choose from. Fishball Gor is also very clean and bright, the perfect place to enjoy street food without compensating for the cleanliness.
The famous curry fish balls are made of secret sauce with more than ten ingredients and fresh spring fish meat, making you crave more. It is also known for its thick-cut fried stuffed "Sam Boh", where each piece is fresh and fried immediately, which is especially delicious to be eaten with a cup of milk tea. Other snacks are handmade rice, glutinous rice, fried noodles with soy sauce, and squid curry. Safe to say, you will be spoiled for choices!
Location: G/F, New Asia Building, 6 Argyle Street, Mong Kok
4) Shanghai 618 – A brand-new revitalised mall in the heart of Mong Kok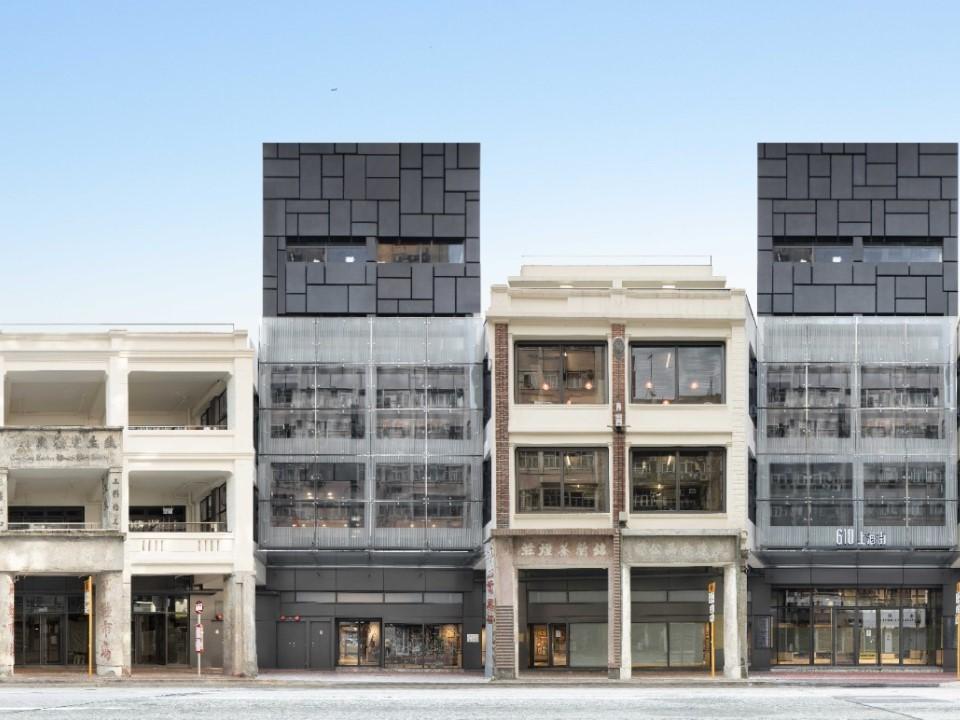 Shanghai 618 is a revitalised mall in the heart of Mong Kok. The site, which comprises 14 protected historical buildings, was once a strip of waterfront shophouses or tong lau (唐樓) selling sweetened fruit tobacco, electrical appliances, medicinal tea, and leather goods. A century later, it has been restored with modern additions and today you will find retro photo ops, murals paying homage to the street's history, and independent local businesses selling and making all manner of goods. The shophouses' interesting façade and interior features will give you a glimpse of what the pre-WWII balcony shophouse looks like. This underrated gem houses some of the 20th-century shop occupants and the new, modern boutique shops and a handful of eateries.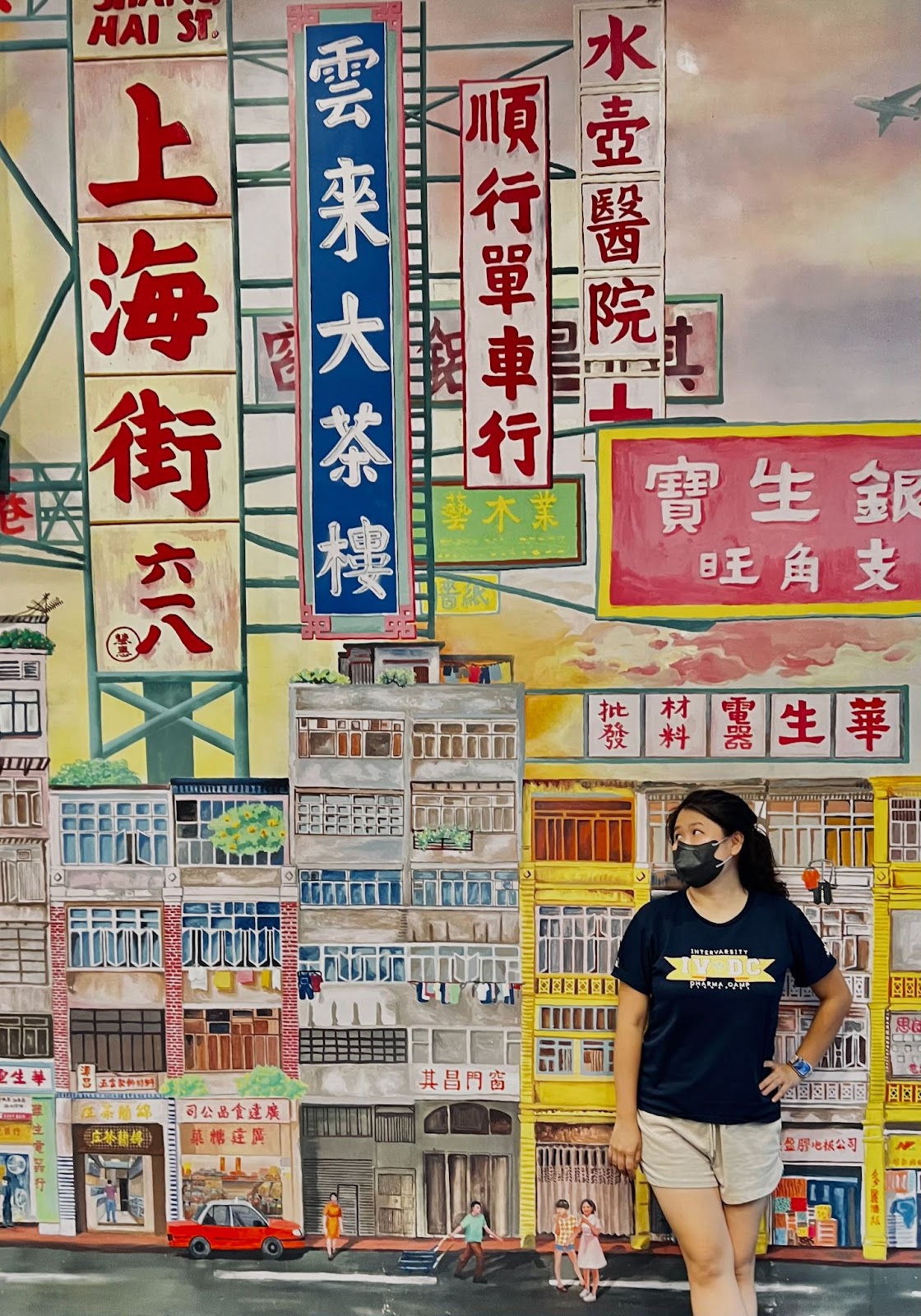 When she was asked what about Shanghai 618 that is special to her, Euxyn responded, "I was in the creative field that brought me to cherish HK heritage, arts, and culture. During one minibus ride, I came across Shanghai 618, which immediately caught my eye. I decided to alight and explore this tenement building. It's another makeover that presents the past and present in a contrast".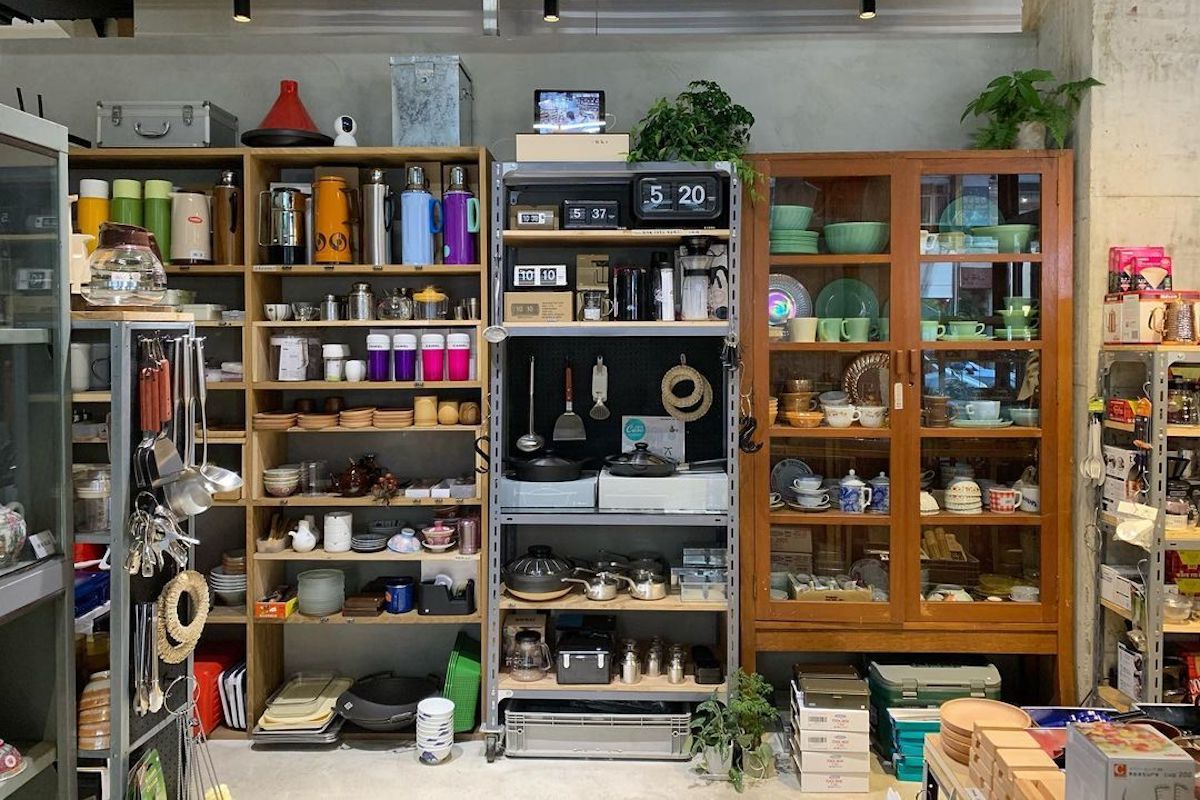 Handwritten art on the exterior pillar has faded over the years. However, the interior is trendy and hippy, and every corner has different HK-themed vibrant mural painting arts that come with a short historical description. From Euxyn's previous visit, she also noted that every piece of art is insta-worthy, especially the old Shanghai Street which used to be adorned with so many outdoor signs. There are a few hidden gem stores that promote endangered craftsmanship. The Re.Store is one of them and they are known for their beautiful HK-inspired souvenirs.
Location: 618 Shanghai St, Mong Kok, Hong Kong
Explore: Website
5) Hung Fook Tong Life – Additive-free soups and healthy drinks, HFT Life also serves fresh baked goods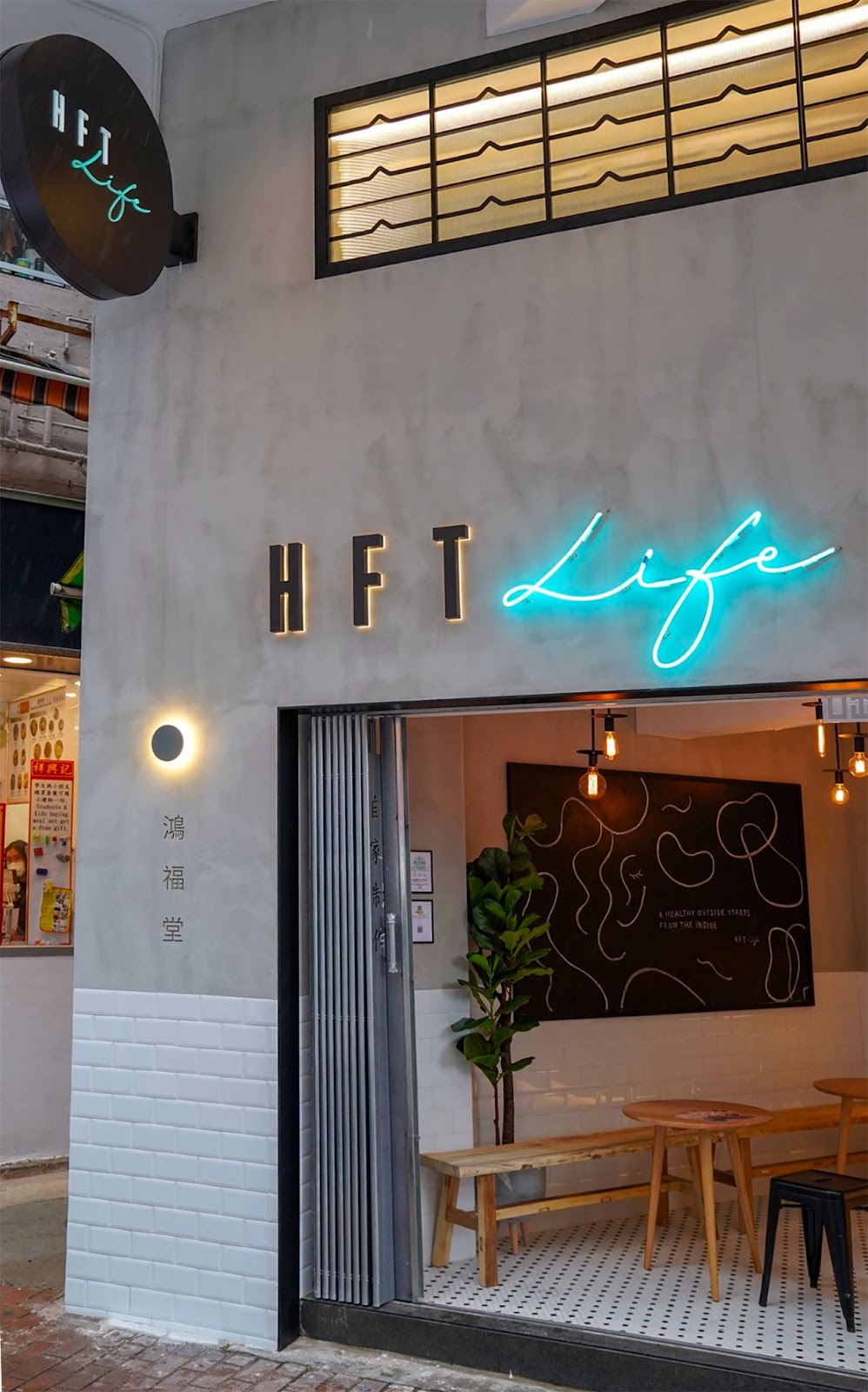 Hung Fook Tong (HFT) was established in 1986 and evolved from a traditional Chinese herbal tea shop to a modern wellness concept F&B business. Over the years, modern cafes are springing up like mushrooms and HFT faced competition from the industry players and they realised they needed to innovate. There is also a growing interest among the millennials in traditional herbal tea shops, which initiated the idea of HFT Life. HFT Life is a brand-new café-inspired concept store that brings together Western and Chinese food cultures and adopts a simplistic design to accommodate the pursuit of modern urbanites toward healthy living.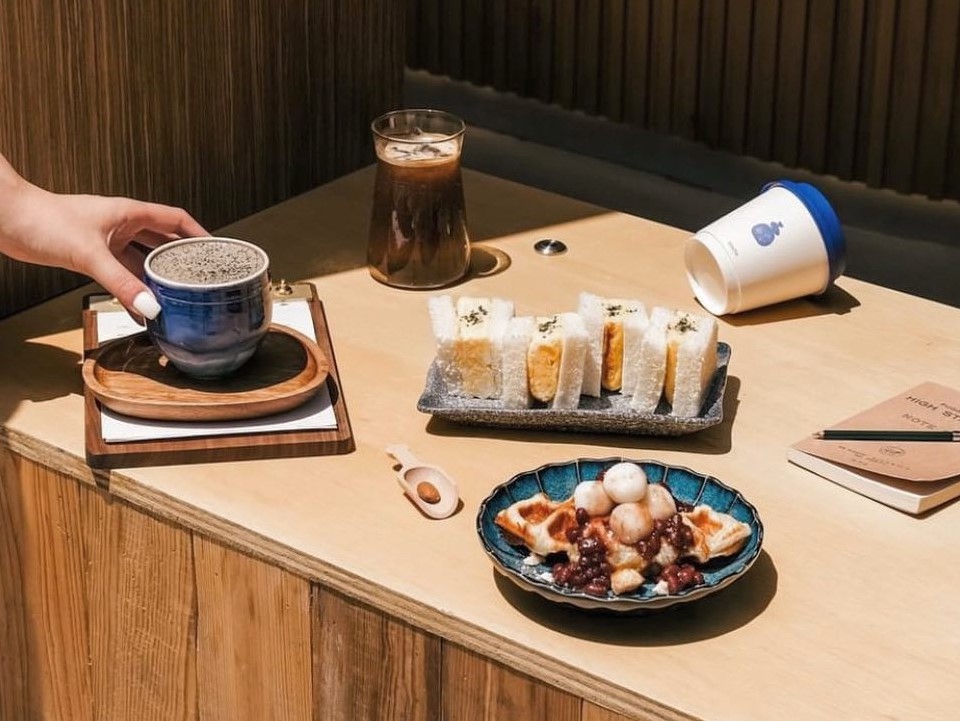 This movement in modernizing heritage cultural trade has also brainchild cafes like South Herbal Lab, which is a new cafe concept by traditional liang cha (herbal tea) brand Wing Sang Tong. It brings innovative and colourful offerings like a series of "herbal coffee", which are java infused with Chinese medicinal herbs such as hemp fruit, Chinese hawthorn fruit, chrysanthemum, You'll find hemp fruit oat latte; frangipani elderflower coffee tonic; among other innovative items specially curated to attract younger crowds.
More millennials can agree with Euxyn on why they like HFT Life, she shared, "The uptrend cafe serves soups, drinks and sourdough bakeries, where visitors can now get a seat and enjoy the food in a slow-paced living environment. They even have a #madeinhk corner to introduce the brand's story where I gain deeper insights into HK culture. What I love the most is their transformation. A new take on tradition successfully rebranded the right herbal tea image, adding touches of modernity to attract lots of youngsters to be aware of their personal well-being. Worth a visit! "
Apart from HFT's signature addictive-free soups and healthy drinks, HFT Life also serves fresh baked goods from the local brand "Handmade Bakery".
Location: Click here for Hung Fook Tong Life shop locations island wide
6) JAJA – The most fashionable vegetarian delights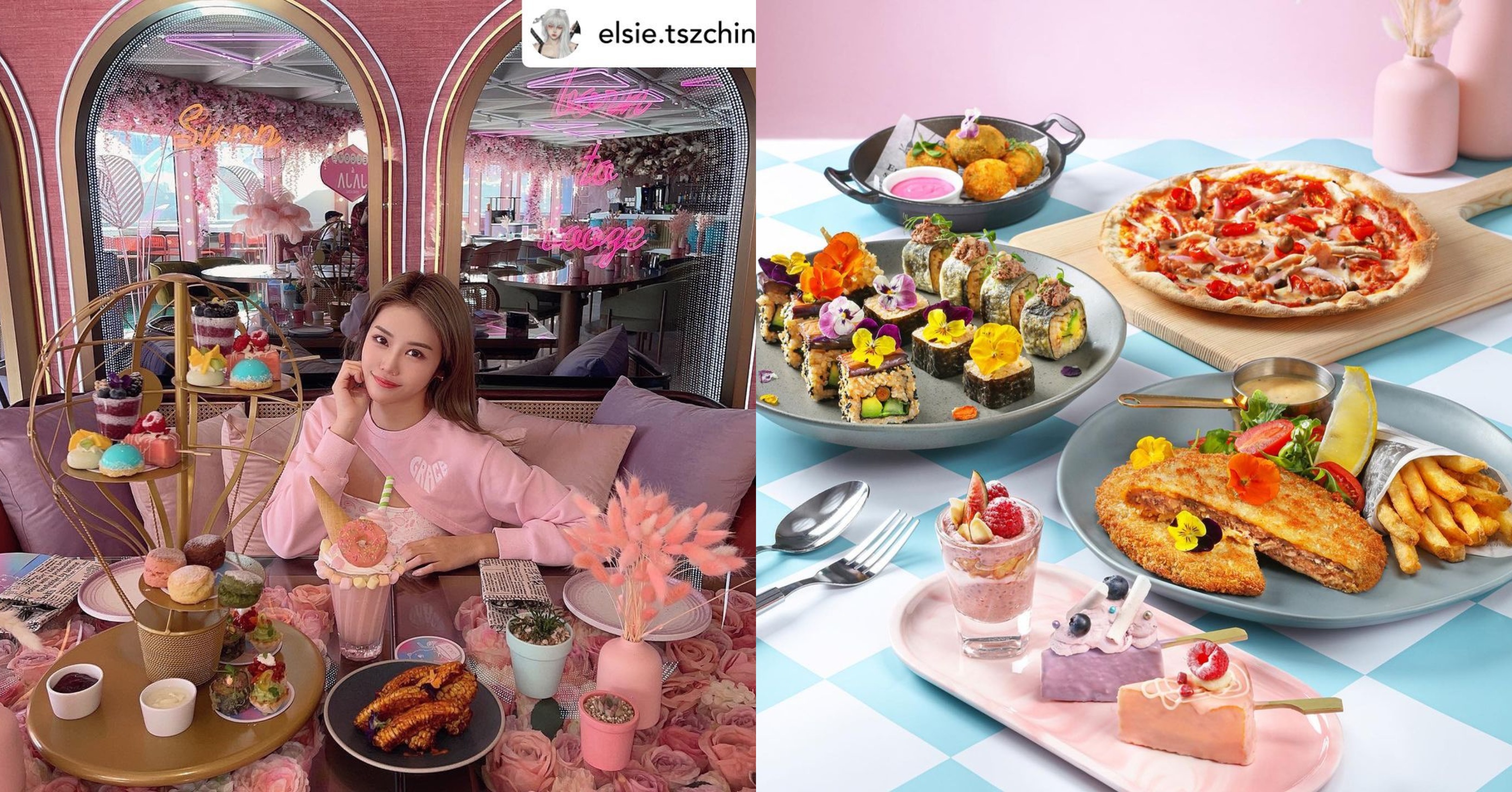 JAJA is a Spanish word pronounced as [ˈhɑːhɑː], which means a laughing sound and it has inspired the restaurant to represent a vegetarian restaurant celebrating happiness. It is driven by the passion to redefine healthy, vegetarian dining as fun and fashionable. Being a meat-free dining spot, this is perfect for Muslims who are looking for pork and lard-free restaurants to put on their list. Curated to be aesthetic and fashionable, JAJA is the perfect place for you to visit for that Insta-worthy foodie shot. This unique and vibrant spot will definitely get you to 'feed' your cameras first before yourself. Look out for unique food on their menu like 1-meter Red Curry Pizza, Living Maki Platter, Soup-er Wonton, super cute 'Shake-It-Off' drinks, and 'Feeling Chia-full' healthy desserts. The Dreamy Balloon Adventure afternoon tea is also impressively presented. If JAJA is to be described in 3 words; it is INSTAGRAMMABLE, FUN, and COLOURFUL!
Location: 2 Harbour Rd, Wan Chai, Hong Kong
7) Await Café & Studio – Coffee, western food, and cakes
If you enjoy café-hopping and you happen to be in the Kowloon area, you will not want to miss Await Café from your bucket list. With a wide choice of cakes and western food, paired with good coffee, this café makes a great lunch spot, especially when you make a pit stop at Prince Edward MTR Station. Located just a few minutes walks away from the station, you can also get your daily dose of caffeine to keep you going on your Hong Kong adventure.
Sheryle, who is a Singaporean Super Fan based in Hong Kong, a foodie, and a blogger recommends her personal favourite, Seaweed Tacos with Avocado Salsa, "I particularly like this item and will order it every time I pay them a visit." Apart from that, make sure you try their Portobello Mushroom Black Truffle and Wild Mushroom Rice with cream sauce and truffle as it is one of their most recommended menus.
Location: G/f, 159a Sai Yeung Choi Street North Prince Edward, Kowloon, Hong Kong
8) Cruise Liner Mall – A mall that looks like a ship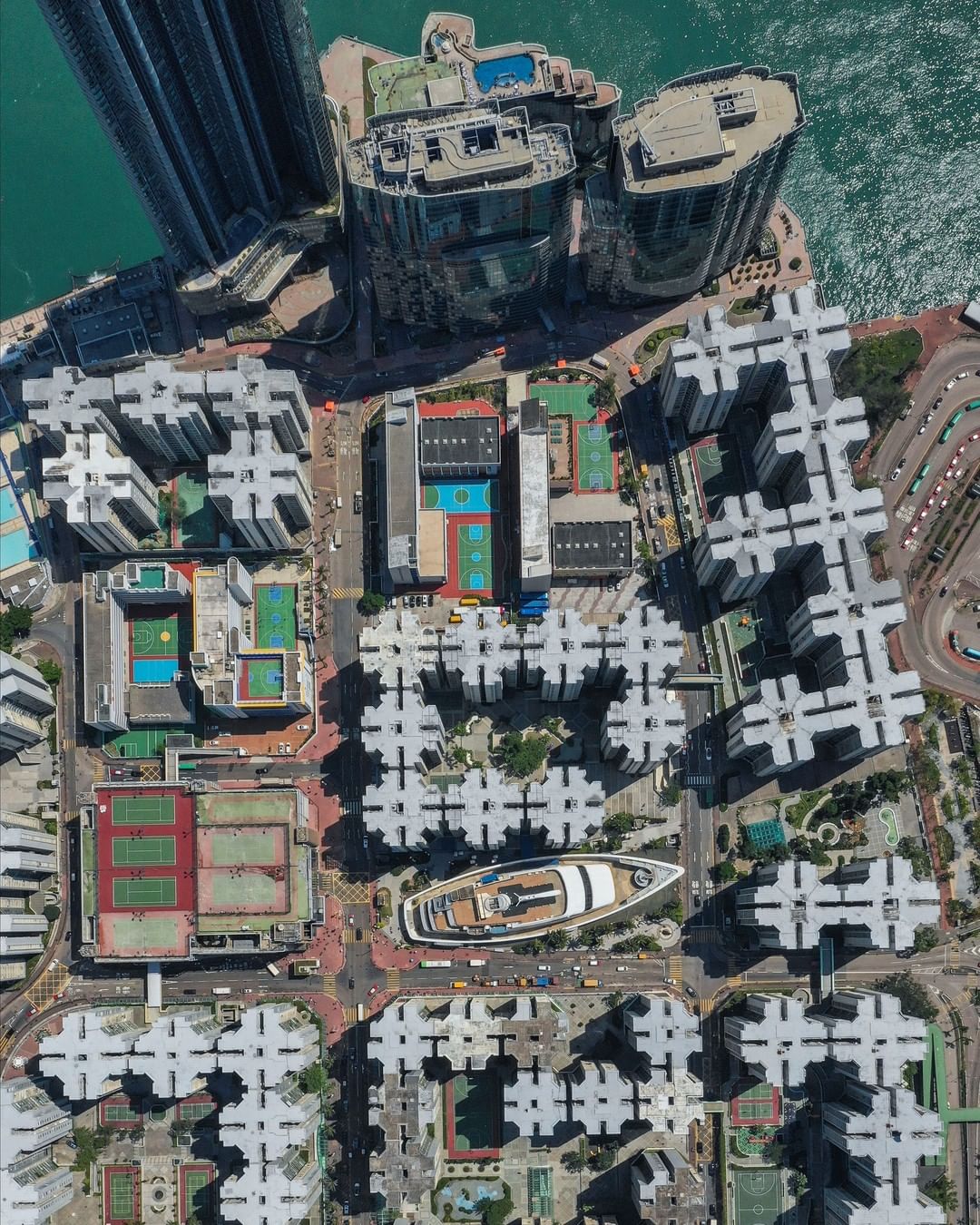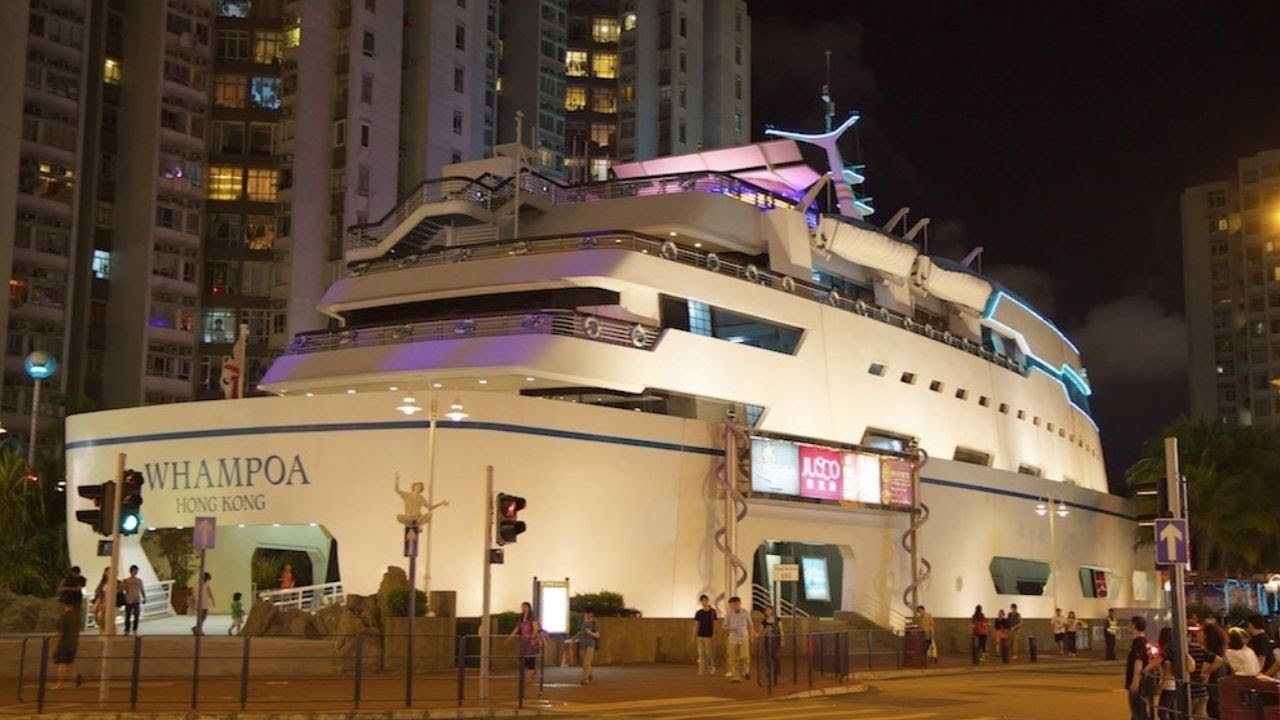 Another place of interest that you must pay a visit to when you are in Hong Kong is Cruise Liner Mall. Situated in Hung Hom, Kowloon, it is a part of a bigger mall called The Whampoa. It is a lesser known and underrated gem compared to the more famous shopping malls like Causeway Bay, Harbour City and the rest in Central. Sticking like a sore thumb in the middle of a residential area, this 360-feet-long unique structure houses a Japanese grocery market, AEON, restaurants, theatres, and even a small theme park. This mall carries a meaningful history, where it used to be the largest and busiest shipyard in Asia in the early 20th century. From then until the mid-80s, the dockyard kept changing ownership until it became what it is today. Its history and uniqueness are not known by many. Hence why you should pay a visit if you haven't and pay a tribute to Whampoa's glory days.
Location: 6 Shung King St, Hung Hom, Hong Kong
Explore: Website
With all these places to welcome tourists back for a remarkable experience, there are more for you to explore and create new adventures at every turn. It is never too early to plan the itinerary for your next Hong Kong holiday. Find out more about what you can explore in Hong Kong at New Adventures at Every Turn.