The multi-award-winning festival of fear, "Nights of Fright," is back for an eighth time as horror fans around the world get ready for the upcoming spooky season! After a brief two-year hiatus, the park has already seen many dates selling out fast for this festival; but at this time of writing, Sunway Lagoon's Nights of Fright 8 has SOLD OUT for the opening night!
If you are the many few who were unable to get tickets to our opening night, don't worry — the event will still be happening on selected nights in October and will be just as frightful!
"This year's event will be a league above the rest because we've teamed up with a team of amazing personnel to pull out elaborate, world-class scares from the afterlife into reality," said Mr. Calvin Ho, Executive Director of Sunway Theme Parks. "There will be no moment to spare as our guests try to navigate themselves through our carefully curated haunted attractions, scare zones, rides, and entertainment so we are confident that those with a penchant for horror will be satisfied by our terror quotient. It brings us great pride to be able to bring back Nights of Fright 8 to Malaysians with the International and local talents that are involved in this massive production." 
Nights of Fright 8 has the most number of haunted attractions in a single festival event in Asia. 
The list of attractions is as follows: 
LYCAN – The Werewolves of London!
Victorian England, Circa 1872. There have been sightings of werewolves roaming the streets. We enter the home of Wallace Keating who has been hunting these creatures and keeping them in his eclectic London abode. A frenzied attack has occurred. Keating has seemingly disappeared, and there are werewolves on the run and hungry!
An unforgiving wasteland at the end of the world. The humans that remain are void of life. The last harvest was completely destroyed. Only the scarecrows survived. 
Welcome to THE HOTEL DEVILLE! It's the place where evil lives. You can check in but you might not check out!  These guests hate visitors so watch your back. This place is the ultimate 'SCARE B&B'!
Viva Mexico! You've been granted access to the most prestigious underground wrestling match. Keep an eye out because seasoned wrestlers like Rey Mysterio Jr., El Santo, and Dr. Wagner will be making their debuts!
We are on the soundstage set of the craziest movie series ever – SHARKNADO – it's open for the very last time. There's been a blackout on set and emergency lighting is in place – maybe it should be called 'DARKnado'! Better watch out for "Sharks on set!'
The zombies are on the loose – the ZOMBIE SWAT team is trying to contain them! Hungry and fierce – the walking dead are the running dead!  Get yourself out of here real quick from these bloodthirsty remains!
99 DOORS @ SCARYTALES THEATER 
Set in the famous '99 Door Mansion', home of the still unsolved murder of John Saint Maur Ramsden on his Byram Estate in Nibong Tebal near Penang in 1948. We visited this mysterious mansion in decay to feel the hantu spirits. One week later a fire broke out destroying most of the 99 doors! Then we went back. The house is alive and possessed…overrun with hantus. This place is scary. Real scary.
They were brimming with joy as they stood next to their favorite wax characters at our wax museum. But the wax has begun to melt in this scorching heat. Iconic horror characters like Billy, Pennywise, Ghost Face, Freddy, and many more are escaping the compound to strike terror in the neighborhood!  
It's back, bloodier than ever – in fact, it's bloody scary! We found three new buildings in this 'Wolf Creek' inspired attraction. Bigger, bloodier, scarier. Will you survive the legend of Blood.Shed.2 – Nights of Frights' scariest attraction. There is a reason this attraction is at the back of the park – it is not for the faint of heart. 
"It's going to be one scream after another as they experience greater attractions and fantastic characters where evil lurks at every corner you see." This promise comes courtesy of Mr. Calvin Ho, while sharing about the highly-anticipated Nights of Fright event. "For those who want something a little less frightening, our exhilarating rides and immersive performances will amaze them all the same," he added. 
Here is the list of shows that our guests can look forward to!
Venture into an abandoned circus where remnants of a renowned artist remain. He died in a fire while performing, but he's BACK to keep the show running!
Trigger warning: this show may not be suitable for survivors of sexual assault. 
Guests will find themselves in thrilling Indonesian mythology where a rape survivor, Suzana, takes us on her quest for revenge. 
Join our monster hunter as you're transported to the barren lands of Transylvania, where Count Dracula resides. With his razor-sharp fangs, glistening skin, and superhuman speed, he is undoubtedly the most revered terrorizer of his time. Are you brave enough to stop him in his tracks?
Three young sisters searched high and low for a pure heart, but to no avail. They were starving and on the verge of giving up hope — until they reached a village where only women roamed. Could this be a dream come true? 
Lynton V. Harris, Chairman & CEO of The Sudden Impact! Entertainment Company further expounded, "We are back and have gone all out again for Nights of Fright 8! Each year presents an opportunity to explore new and spine-chilling themes, and this year we will be led by our new host which is LYCAN-themed. Other cool attractions include Blood.Shed.2, The Harvest, and LUCHA Libre in 3D. We also have a new film in the SCARY TALES Theater – '99 Doors' which is heavily inspired by our visit to the 99 Door Mansion at Nibong Tebal near Penang."
"Our team at The Sudden Impact! Entertainment Company is about to deliver the promise for guests to experience THE FEAR WITHIN at the epic NIGHTS of FRIGHT 8!" 
Normal tickets: RM118 
(Inclusive of 1 Devil's Horn OR 1 Blood Bag Drink)  
Xpress Pass: RM88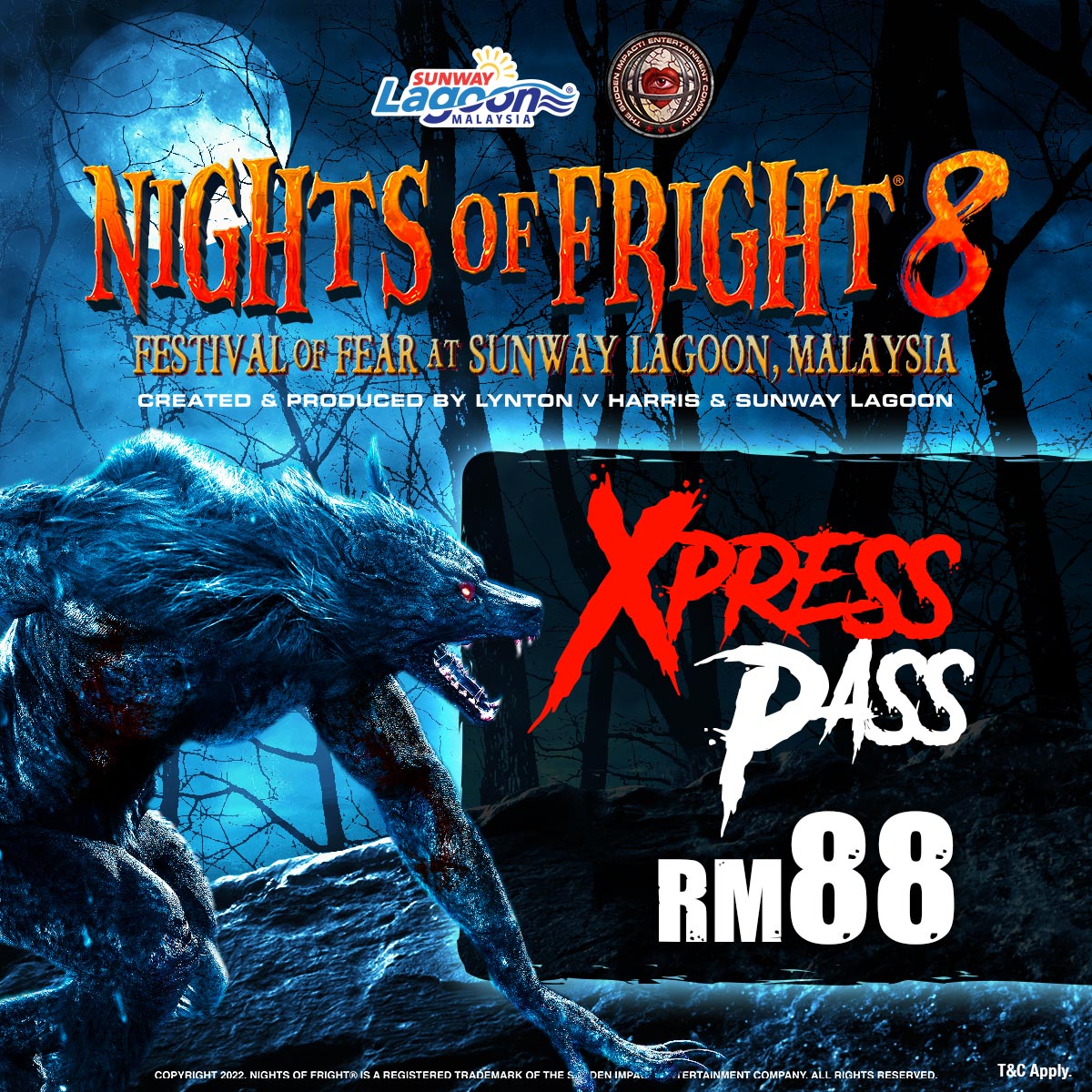 We know how much you hate waiting, so come snag our Xpress passes to beat the queue NOW! Convenience has NEVER been spookier.
 Howl-O-Ween Package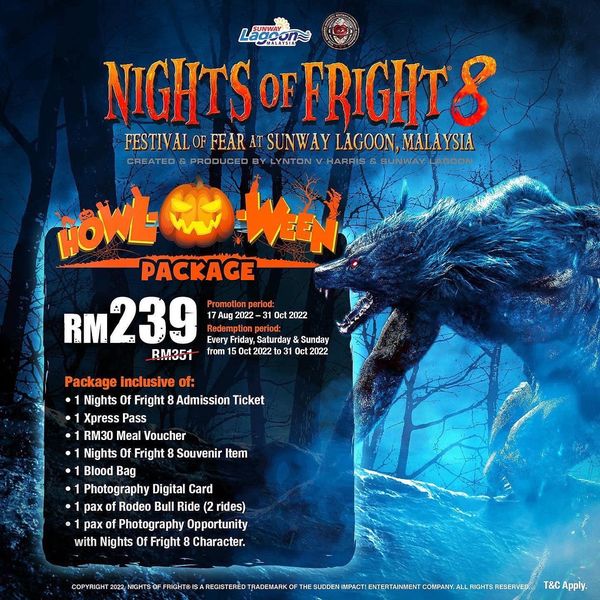 Nothing beats a scary good deal on Halloween, and our package will have you howling for DAYS! 
Following a period of high demand by the public, Nights of Fright will also be taking its comeback to the next level with some exciting staycation packages into which guests can sink their teeth! 
Exclusive Staycation Packages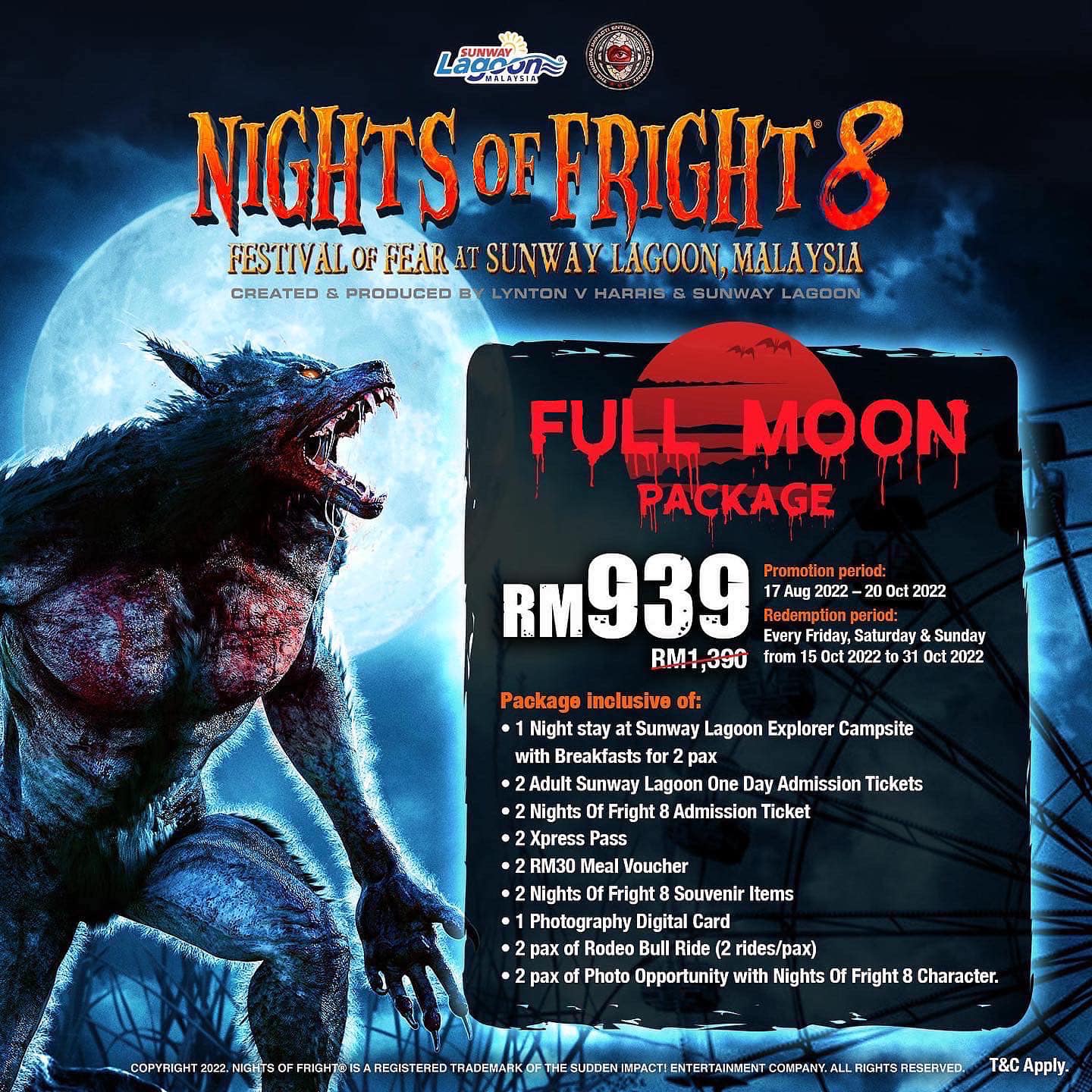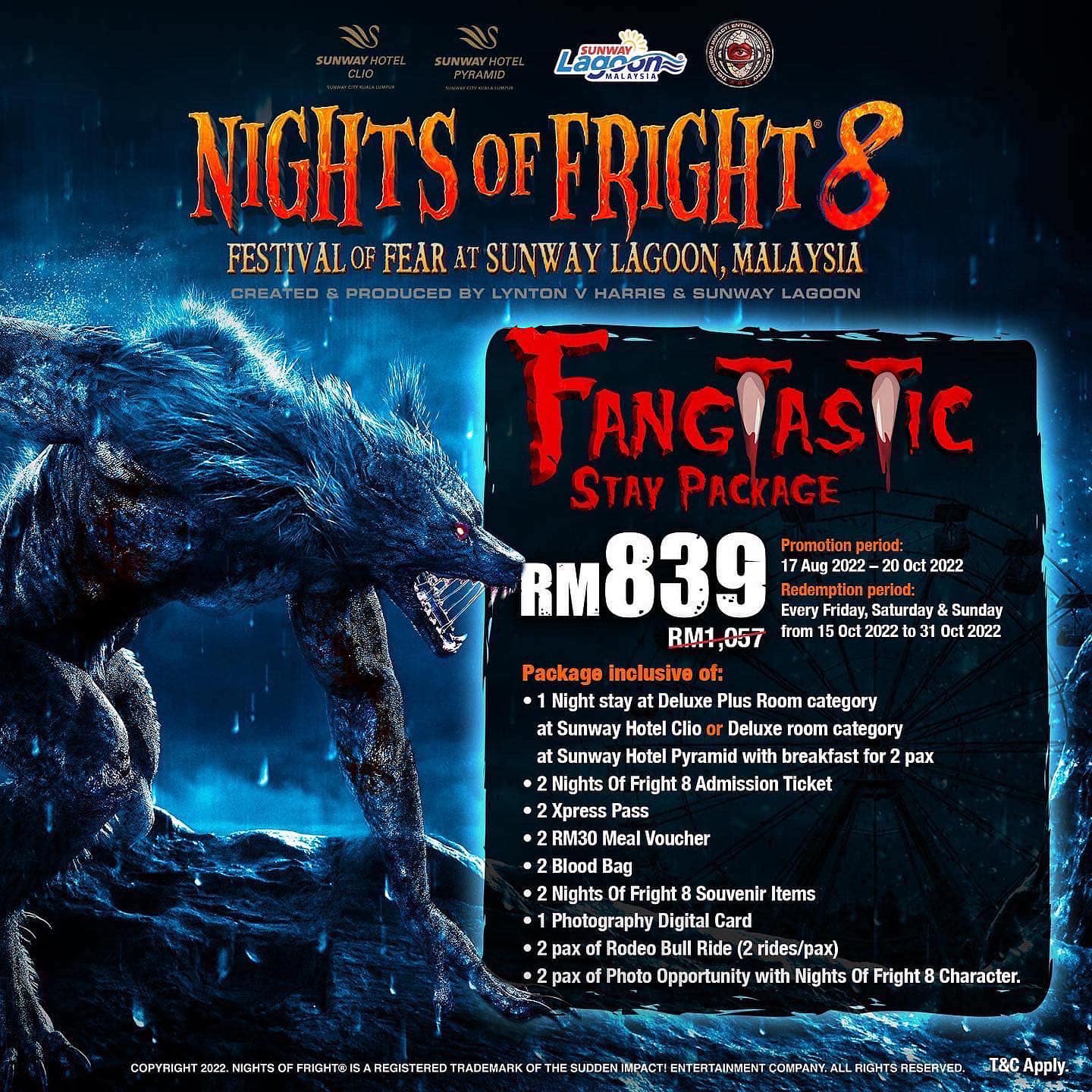 Quickly snag these packages on our e-store now so you can tap into your hunger for the chills and thrills ALL NIGHT! 
Promotional period: August 17th – October 20th 
Redemption period: October 15th – October 31st, every Friday till Sunday 
"We hope our fans are excited because they are in for a frightening good treat," Lynton concluded.