Our planet does not only populated by humans. Biodiversity — the various types of living things on the planet are what make the world keep living. Nevertheless, in recent years, the issue of biodiversity loss has been alarming. The reason for this matter is because of humans themselves. Some activities executed endangered biodiversity, which also affected by climate change.
On Twitter, a youth-led movement, Kolektif Iklim wishes for biodiversity loss and climate change issues to end. Thus, they propose five ways to strengthen the synergy between these biodiversity and climate change in Malaysia.
Here are some of the things proposed by the movement
1) Introduce Payment for Ecosystem Services (PES) in Malaysia
By introducing Payment for Ecosystem Services (PES), farmers and landowners will be encouraged to secure the natural services of their land.

These include freshwater availability and carbon sequestration. Along with Ecological Fiscal Transfer (EFT), PES will strengthen the Federal-State relationship when it comes to national ambitions of biodiversity protection.
2) Diversify Community Engagement and advocacy in Conservation
A collaboration between the local authorities with the youths, stateless persons and indigenous people can improve local habitats across the nation.

This would be done with the supervision of the Federal Government. As a part of the nation's sustainability efforts, marginalized communities must be included in the collaboration.
3) Construct Achievable Mitigation Plans for Flooding
Aside from investing in concrete and steel solutions, nature-based solutions can also be helpful for Malaysia's flood resilience strategy.

Some of the proposes are by sustaining and widening protected areas.

Furthermore, flooding can be halted by committing to the COP26 declaration on ending deforestation by 2030 and gazetting flood retention ponds.

Lastly, improving our people's preparedness and awareness about the issue.
4) Particular Emphasis on Marine Conservation
The government should consider tackling unsustainable development projects near marine and coastal areas.

Besides that, while fishermen's lives depend on fish sources, the government should also handle the depletion of fish stocks to secure our food security.

The protected areas need to be used to boost future fish catches.

To spread awareness about marine conservation, collaboration with environmental groups, local fishermen, and young people must be set.
5) Enhance Biodiversity-Climate Collaboration between Ministries
Ministry of Natural Resources, Environment and Climate Change must work together with other ministries to take action on biodiversity protection and climate change issues.

The ministries capable of assisting regarding the issues are The Ministry of Agriculture and Food Security, and The Ministry of Plantation and Commodities. Furthermore, The Ministry of Finance, The Ministry of Tourism, and The Ministry of Law and Institutional Reform are also included.
The Ministry Of Natural Resources, Environment and Climate Change, Nik Nazmi is informed about the proposal. He agrees to meet Kolektif Iklim for further discussion.
Noted. Let's meet up https://t.co/zlsF4pBmrD

— 🇲🇾 Nik Nazmi (@niknazmi) December 7, 2022
We hope that The Ministry Of Natural Resources, Environment and Climate Change can make this happen to secure biodiversity and halt climate change.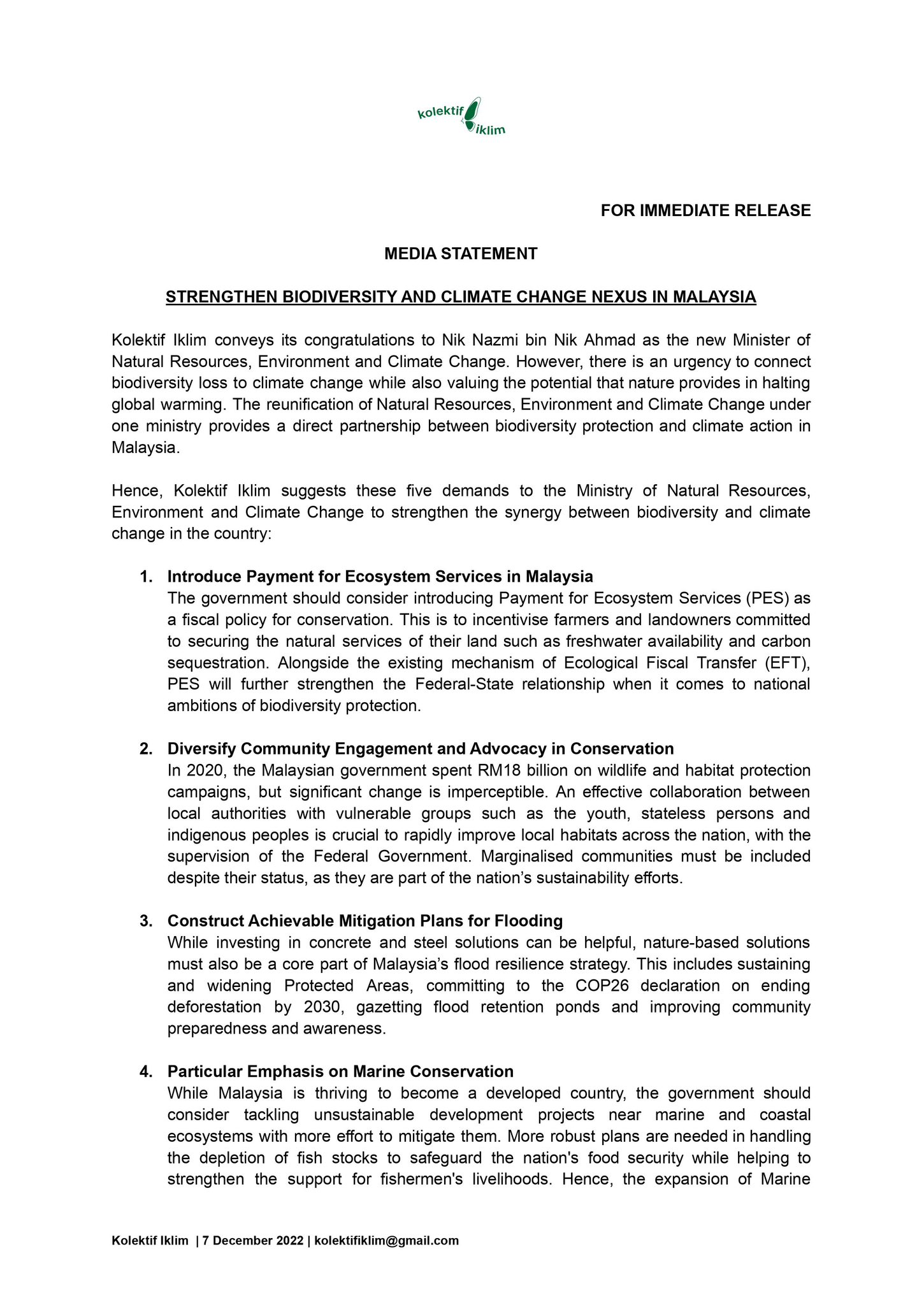 Source: @kolektifiklim, @nikazmi (Twitter)