There is always a time in a year when a company or an organization will hold a dinner. Some may be due to a purpose to celebrate the employees for their hard work. Sometimes, it may be just for fun. Either way, it is the most awaited occasion of the year.
During this time, men or women can dress as beautifully or as dashingly as they want. No one will say a thing! Of course, during this time, an award will be presented too. For instance, usually, there will be the award for the King and Queen of the night, the best attire award, and more!
Like this man who attended a dinner party, he needed to dress up following the theme. The theme of the dinner was a 'Red Carpet Dinner' as shown on the banner.
Hearing 'Red Carpet Dinner,' people would think of sparkling dresses, skirts, blazers, trousers, and more. However, this man, @4zjee, thought further than that! What he wore to the dinner has never been worn by anyone else before. Look at the pictures below:
@4zjee

Dinner Tema Red Carpet?? 🤣🤣
Tada! He literally wore a carpet as his attire, and it was red! Well, he was not wrong. He literally followed the theme. Let's give a big hand for his creativity.
Many people are amused by his attire: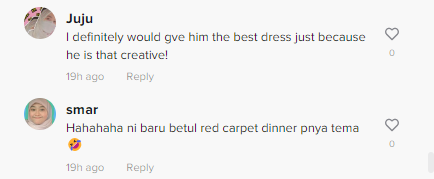 Some people even wonder if he won any award for his creativity:


He better did.
Source: @4zjee (TikTok)