Before this, we have served you with an article about a group of lads from Indonesia who always clean up drains and river for the sake of the environment. The group is called Pandawara. You can read the article here.
Recently, we discovered a man from Kelantan, Malaysia, who does the same thing! In several TikTok videos by @dinlentik, he actively clears up rubbish that clogs the drain near his workplace. He does it each time rubbish were thrown by irresponsible people. Sometimes, the rubbish is pushed away by heavy rain.
Below is his recent video:
@dinlentik

Warna air pun dh nak hitam,memang busuk😭
Viewing all of his videos, we found out that there is a family of fish living in the drain. Thus, @dinlentik clears up the rubbish for our earth's cleanliness and also for the fish's safety.
According to him in one of the videos, it is worst when there is oil in the drain. We learnt this during our school years: Oil can easily harm sea or river creatures.
Not many people would 'sacrifice' themselves getting in the watery drain to clear up the rubbish. Thus, @dinlentik hard work should be praised. If we were to ask you if you care for the environment, you would proudly answer, "Yes." However, sadly, it is proven not true as rubbish is still thrown in the drain and other unsuitable places.
Many thank him for his good deed. He is surely one in a million!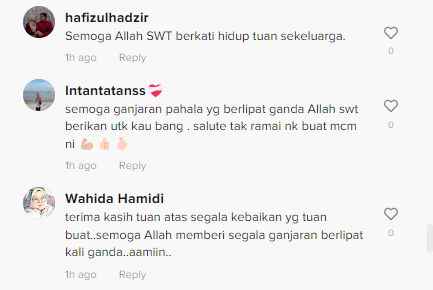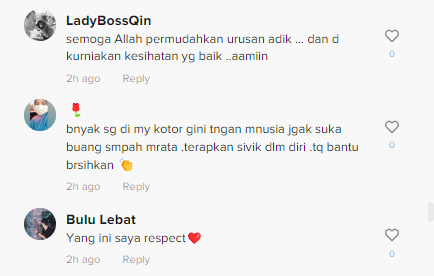 Thank you for your service, @dinlentik!
Source: @dinlentik (TikTok)