Malaysia International Trade and Exhibition Centre (MITEC) and ABS Greentech Sdn Bhd (ABSG) have signed a Memorandum of Understanding (MOU) to achieve mutual commitments particularly corporate social responsibility on Environmental, Social, and Corporate Governance (ESG). The MOU was signed by Mala Dorasamy, the Chief Executive of MITEC, and R.M. Ravichandar S. Ratnam, Group Chief Executive Officer of ABS Greentech Sdn Bhd (ABSB).
MITEC is committed to reducing the environmental impact and achieving the Sustainability Development Goals (SDG) with the #myWorld Program since 2018. The MOU is to close the gap of SDG 2 End Hunger, by assuring food security, improving malnutrition, and sustainable agriculture through smart farming. Both parties have agreed to take up the initiatives which include organizing conferences on sustainable agriculture for the communities, encouraging and promoting pesticide-free food products, thus retaining nutritional content.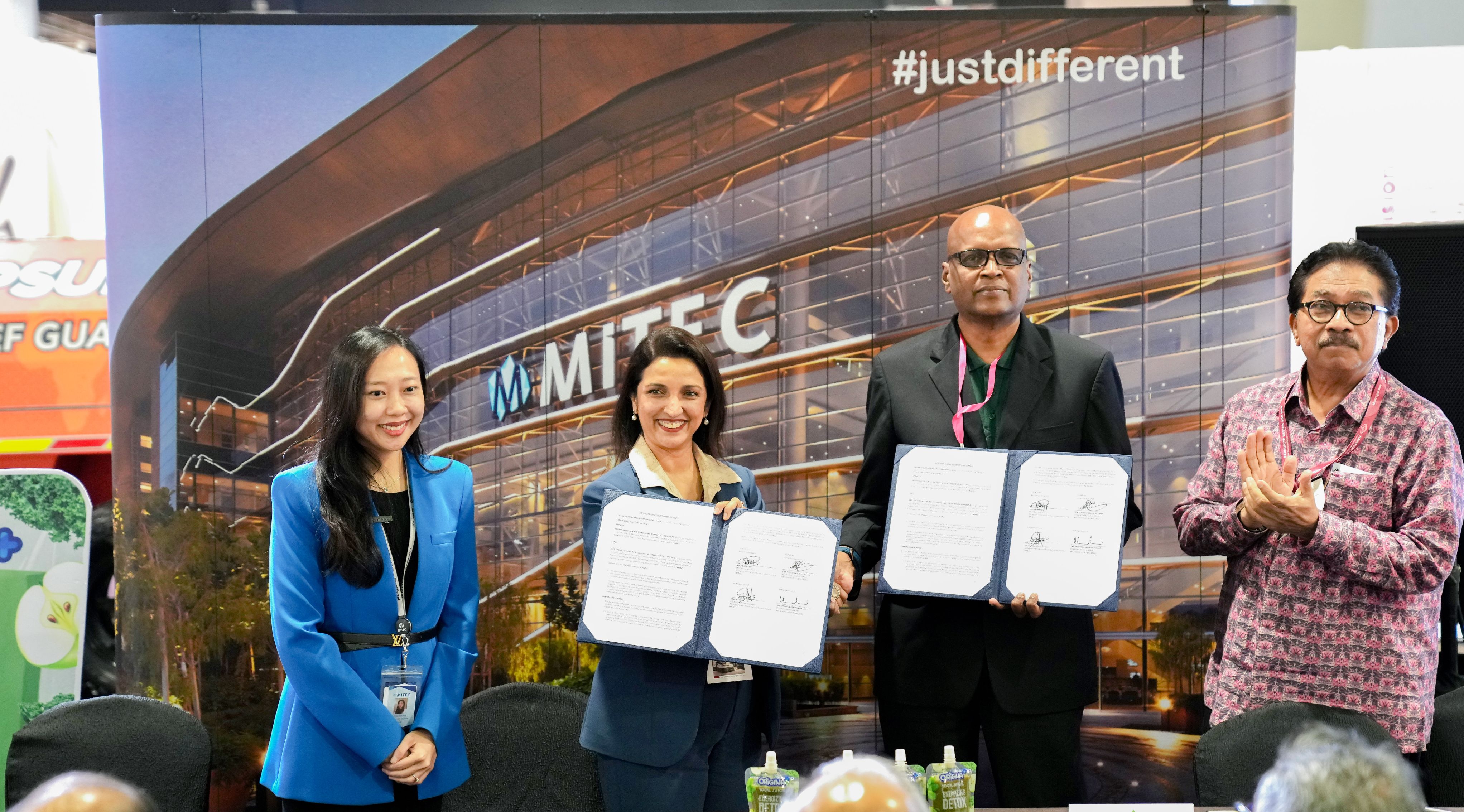 The MOU signing between ABS Greentech Sdn Bhd and MITEC sets forth that:
MITEC will be the venue provider for Asia Smart Farming and Food Security 2023 (ASF 2023) an exhibition and conference on the 3rd and 4th of October 2023.

MITEC will jointly promote IPM technology by having a miniature IPM demo showcase farm located there, which will be displayed where people can visit the technology, with hydroponics and the innovative end-to-end solution technologies provided by ABSG.

MITEC will collaborate with ABSG to promote IPM knowledge dissemination by promoting the IPM training programs that are delivered by ABSG.

MITEC supports ABS Greentech products that align with the initiatives as well as forms strategic partnerships to conduct sustainable best practices ESG.
This continuous partnership of both parties is joint support for business development and marketing activities to explore the success and growth of International Trade opportunities. "Kind Malaysia 2023, is a great platform to connect corporates with civil society, in partnership with #myWorld by MITEC, said Mala Dorasamy, CEO of MITEC. These continuous partnerships will undoubtedly accelerate the growth for both industry and players, improve our carbon footprint and the country's business events".
The objective of this event is for companies to embrace this transformative opportunity, to the next generations and will be able to enjoy the economic, environmental, and societal benefits of a new age. MITEC ensures that ESG practices are more purposeful while continuing to provide world-class facilities, to strengthen its position in the business events industry and boost its competitive edge as Malaysia's Best Convention Centre.