Maxim E-hailing introduced a new feature in the application for all users who request for help in the message section. Now users can enjoy the feature to rate the feedback from User Support. Once a member of the User Support completes feedback requested from an user, twobuttons will pop up one of which is 'thumbs up' and 'thumbs down'. The user can select according to their preference and satisfaction of the feedback.  It's a great way for us to know whether our user is satisfied with our feedback. The button is either thumb up for good service or thumb down for a better service. Users get the access to rate directly after the message ends, and it will go to Maxim's application system.
The main idea for the new function is to improve the service and to create an interactive communication between the users and the company. By having the rate button, it's easier to trace any message that faced some issues and the user support team will provide with an answer. 
"This function is surely to be of huge help in improving our services and responses to our users. Any remarks or ratings given by them are very essential as we can further analyze the effect of our responses to their questions. We would receive similar questions faced by each user everyday. Thus with this function, we hope to receive feedback on the solutions provided by our team. Dayana Qistina, MY User Support"
As one of the application that provide two way communication, the rate button upgraded the system into one step ahead of satisfied information. It is a very direct message when the rate ratio is either good or needs another help, users can achieve mutual understanding even through message. The message from passenger answerd and no matter how Maxim E-hailing assures us to provide sanctification service to all.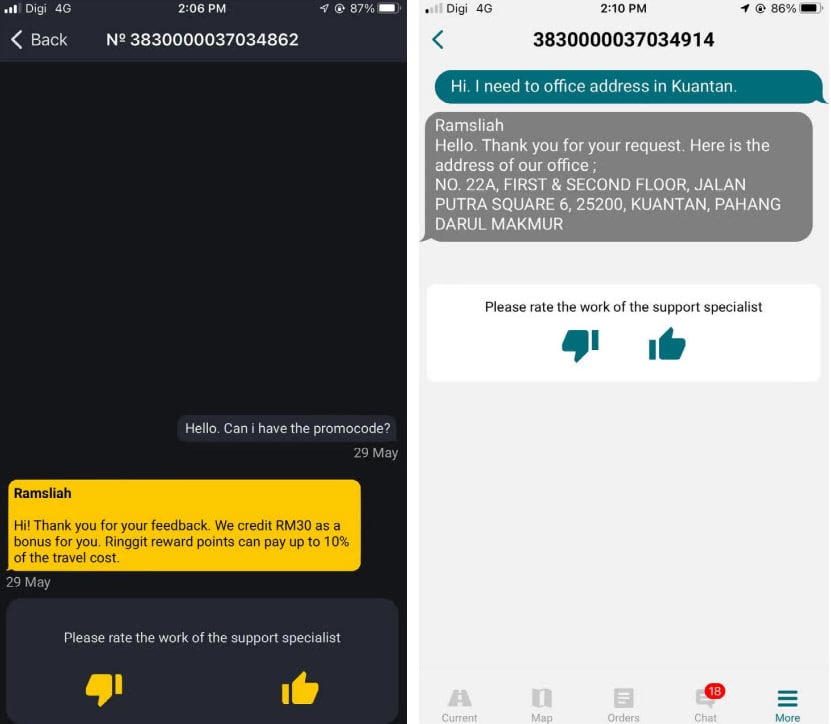 "Rating experience" is an important part of ensuring customers receive the information and support they need from specific requests. For now, users can only leave either a like or a dislike for a response. The quality department is planning on introducing a comment option for the users. Ramsliah Ogoh, MY User Support"
Our company works hard to ensure that all passengers travel with peace of mind anywhere they go. Safety will always be a priority to us and we're bound by it. That' is only the reason Maxim E-hailing keep updating with features to make the trip as everyone's preferred choice.