Shah Rukh Khan, 57, is a Bollywood actor. Not only famous in his country but he is also known all around the world. Recently, the famous actor was spotted performing umrah in the holy place, Mecca.
@saudrehman27 on Twitter shared two photos of Shah Rukh Khan, complete with his umrah attire — the ihram. In the photos, he was wearing a face mask as there were many people there with the same intention of performing the umrah. 
Bollywood Actor Shah Rukh Khan @iamsrk performed Umrah in #Mecca today.

May Allah swt accept his umrah, Ameen. #ShahRukhKhan@SRKUniverse pic.twitter.com/vPTKUSwKE6

— سُعود حافظ | Saud Hafiz (@saudrehman27) December 1, 2022
Furthermore, an SRK fans Twitter account, @SRKFC_PUNE, shared a video of him talking to some bodyguards at Mecca. At the same time, he is believed to be accompanied by his two bodyguards.
Another video of #ShahRukhKhan while he was performing Umrah 😍@iamsrk pic.twitter.com/hoJB0NPj6s

— Shah Rukh Khan Fc – Pune ( SRK Fc Pune ) (@SRKFC_PUNE) December 1, 2022
Before performing umrah, Shah Rukh Khan was already in Saudi Arabia to shoot a movie titled Dunki. The actor himself posted a video where he thanked everyone involved in the shooting by mentioning some of the cast's names. Aside from that, he also thanked the Saudi Arabia Ministry Of Culture for the warm hospitality while he and his team were there.
We pray that Allah accepts Shah Rukh Khan and other Muslims' umrah. 
Other people on Twitter also wished him well.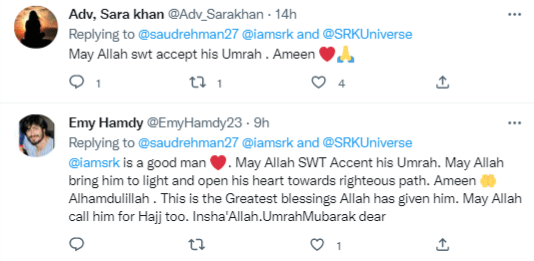 Shah Rukh Khan is mostly known for his roles in Kabhi Khushi Kabhie Gham, Kutch Kuch Hota Hai, My Name Is Khan and many more.
Sources: Siakap Keli, @saudrehman27 & @SRKFC_PUNE (Twitter)