A few weeks ago, Bulan Bintang held a local fashion show and introduced its new Raya Collection. The fashion show got a lot of praise from netizens. Not just that, but proudly, it also broke the Malaysian Book Of Records for The Most Drones Used In A Light Show. How cool is that?
A few days ago, Bulan Bintang did something astounding again! It held a concert — Konsert Malam Bulan Bintang. Even though during the same night, there was another big concert, Blankpink World Tour, our local show was still crowded with people.
Ada org kata Konsert Malam Bulan Bintang semalam "harga rahmah, experience mewah" 🤣

Betul kot. Ni mmg cite buat konsert utk kepuasan sendiri, bukan buat duit punya event. Harap semua yg dtg happy!

Puas hati dapat buat stage and sound ikut spec sendiri!! 360 degrees stage ✅ pic.twitter.com/xJ7eB3yIu7

— meri (@meripergibulat) March 5, 2023
People praise Bulan Bintang for offering an affordable but meaningful concert for people to enjoy. They say the concert ticket that night was "Harga Rahmah." For those who do not know, the description comes from the term "Menu Rahmah," which offers Malaysians cheap but nutritious food. "Harga Rahmah" means the concert ticket was inexpensive, but it was worth it!
Why are we describing it as fun because the celebrities invited to liven up the concert are very talented! Who does not get excited seeing Siti Nurhaliza, Alif Satar & The Locos, and M.Nasir? Not just that, but there were also Raihan, Salammusik, and two celebrities from Indonesia — Opick and Sabyan.
Furthermore, the stage was a 360 ° stage! How awesome is that?
See the comments from the satisfied people who went to the concert: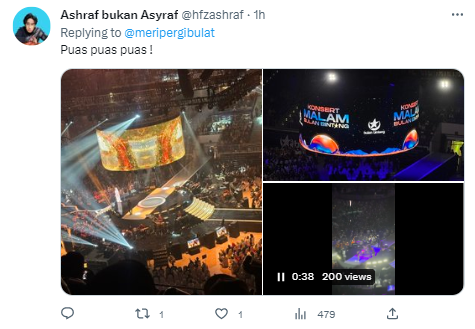 Source: @meripergibulat (Twitter)